Referendum countdown: 500 days until Scots vote on independence
Milestone reached as both sides step up campaigns to win over undecided voters.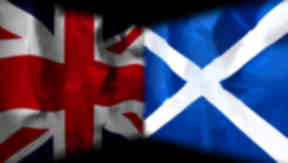 Voters will go to the polls to decide Scotland's future in 500 days' time.
Deputy First Minister Nicola Sturgeon said that the independence referendum, which is taking place on September 18 2014, would give people the "opportunity to take our future into our hands".
While the SNP administration at Holyrood wants Scotland to leave the UK, opinion polls have so far failed to show a majority in favour of this.
A poll published less than a month ago put support for independence at 30%, with 51% in favour of Scotland remaining part of the UK and the remaining 19% undecided.
The survey, by TNS BMRB, also found support for the Yes campaign is higher among men than women, at 36% and 25% respectively.
Ms Sturgeon said: "In just 500 days' time the people of Scotland will get the opportunity to answer the question 'Should Scotland be an independent country?'
"A vote for independence means we take Scotland's future into our own hands. Being independent means we always get the governments we vote for and that's very important."
The SNP deputy leader also argued a Yes vote in the referendum would give Scotland "the chance to build a better future".
She stated: "We have a wonderfully diverse economy. As well as our renewable energy sector, Scotland is world-leading in life sciences, food and drink. We have some of the best universities in the world.
"Of course we have billions of barrels of oil still to be exploited in the North Sea. So, our economy has got so much going for it and we have so much potential to fulfil.
"Yet there is a paradox in Scotland today because while our economy has all of these advantages many people in Scotland feel that their living standards are under pressure like never before.
"The gap between the richest and the poorest is growing ever wider. Only independence can change this."
Ms Sturgeon continued: "Independence gives us the chance to build a better future.
"To fulfil the vast potential of our economy and make sure we have the kind of society we want to live in, the kind of society we want our children to grow up in.
"That's the benefit of independence and the opportunity that everyone in Scotland has in just 500 days. The opportunity to take our future into our own hands."
The group campaigning to keep Scotland in the UK, Better Together, marked the 500 days milestone by publishing 500 questions on independence.
The campaigners for keeping the Union claim the pro-independence camp has met legitimate questions about independence with "bluster and assertion, rather than detail and debate".
The have posed 500 questions on Scotland's future, which they say need to be answered by those who favour independence. The questions cover topics such as Europe, defence, health and sport.
Others cover topics from legal advice on an independent Scotland's relationship with the EU to how Scotland would provide for state pensions. They also demand to know whether Scots would be charged for treatment in the English NHS and what arrangements would be put in place for the country's national security and defence.
Alistair Darling, chair of Better Together, said: "So far, those who want Scotland to leave the United Kingdom have relied on bluster and, sadly in the case of the EU, outright deception in order to try convince Scots to give them their backing. This, simply, is not good enough.
"This debate is too important to be based on anything other than cold, hard facts. Unfortunately, we find ourselves living in a country where legitimate questions are met with bluster and assertion, rather than detail and debate.
"Experts, businesses and trade unionists who raise their concerns about what independence means are often shouted down. Anyone who raises any questions about the wisdom of leaving the UK is accused of scaremongering.
"Over the next 500 days we will seek to change this. We will give voice to the millions of Scots who want to know exactly what separation would mean for their jobs, their pensions and their country."
The questions have been sent to Better Together by individuals, organisations and businesses over the past few months.It is understood that the questions will now be submitted to the SNP through parliamentary questions, freedom of information requests and letters to ministers.