Nicola Sturgeon and Michael Moore debate economics of independence
Deputy First Minister and Scottish Secretary went head-to-head in Scotland Tonight's live one-hour special.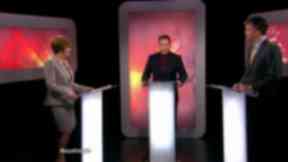 Nicola Sturgeon and Michael Moore have clashed in the first major televised debate of the referendum campaign.
The Deputy First Minister and the Secretary of State for Scotland went head-to-head in Scotland Tonight's live one-hour special on the economics of independence.
Ms Sturgeon and Mr Moore fielded questions from presenter and moderator John MacKay before grilling each other in a cross-examination.
The two political heavyweights crossed swords on a range of economic, monetary and fiscal questions, covering everything from North Sea oil revenues to the proposed "Sterlingzone" monetary union.
STV's political editor Bernard Ponsonby, providing analysis after the debate, judged Ms Sturgeon to have scored a "comfortable points victory". Fellow analyst Colin Mackay, political editor at Radio Clyde and Radio Forth, agreed that Ms Sturgeon had emerged victorious but added that neither politician had asked crisp, effective questions.
The debate became heated at several points, including the focus on welfare and tax. The SNP depute leader pressed the Scottish Secretary on a projection from the respected Institute for Fiscal Studies in London that the UK Government's reforms would see 50,000 Scots children plunged into poverty.
Ms Sturgeon demanded: "Why should your welfare cuts be imposed on Scotland against the democratic wishes of the Scottish Parliament?"
Mr Moore set out a defence of the Coalition's policies as they relate to Scotland. He told his opponent: "As a Liberal Democrat, I am proud that we have taken 200,000 Scots out of tax altogether; that we've reduced the tax burden for two million low- and middle-income earners in Scotland. People on the minimum wage pay half the tax they were paying three years ago.
"And, yes, we're reforming the welfare system but we're doing it so that we can make work pay. So we can get people away from being on unemployment benefit and into work. We're actually succeeding in creating hundreds of thousands of jobs here in Scotland and across the UK."
Ms Sturgeon also produced a leaflet issued by the pro-Union Better Together campaign which touted the UK economy's triple-A credit rating. The UK has since lost that seal of approval from international markets and the pro-Union campaign was therefore engaging in "baseless scaremongering", Ms Sturgeon charged. "Will you pledge tonight that there'll be no more of this on this or any other issue in this campaign?" she queried.
The Scottish Secretary rejected Ms Sturgeon's premise, saying: "That's twice tonight you've accused me of scaremongering. I've been here trying to put the most positive case that will attract people in Scotland to stay part of the UK. I would just highlight that we remain one of the top-rated economies in the world."
Mr Moore maintained that, whatever the challenges of the UK economic situation, Scotland was still better off inside the Union. He insisted: "The whole world economy has been through some very tough times in the last decade or so. There was a cliff edge that economies fell over. I believe that as part of the UK we've got the strength and the ability actually to get back from the cliff edge that we been left at."
Mr Moore challenged his opposite number on currency, asking if there was a "Plan B" in place should negotiations fail to reach agreement on a "Sterlingzone".
Ms Sturgeon replied: "We want to keep the Pound and I'm not going to talk about a Plan B when we've got an excellent plan in the form of the fiscal commission working group. I understand that you've got a political job to do. You want to create as much fear and uncertainty in this campaign as you can but as we've discussed earlier on this evening, it's not just right for Scotland that we stay in the Pound, it's right for the UK as well.
"Are you going to tell me seriously that a UK Government, after Scotland has democratically decided to vote for independence, is going to look its own businesses, its own citizens in the eye and say we're going to force you into a difference currency with one of your biggest trading partners even though your trading partner wants to stay within that currency?
"It's common sense and you know it and the only reason you won't admit it is it would take away your ability to spread fear amongst the Scottish people."
Mr Moore also agreed under questioning that he believed Scotland could prosper as an independent state but added that he thought Scots would be stronger and better off as part of the United Kingdom. He explained: "I agree that Scotland can be a separate country; I've said that in many public fora previously. My question, and what everybody at home will be debating, is whether or not Scotland is stronger and better as part of the UK or stronger and better on its own."
The Deputy First Minister later challenged Mr Moore's use of language during a pointed exchange on currency. The Scottish Secretary had referred to Scotland "rip[ping] ourselves out" of the UK if it voted for independence. Ms Sturgeon objected to the turn of phrase, arguing: "We're not ripping ourselves out to negotiate our way back in. The Bank of England, the Pound, the system of financial regulation that's in place just now – that belongs to Scotland as much as it does to the rest of the UK."
The pair's performance came under scrutiny from a panel of two of Scotland's most respected political broadcasters. Bernard Ponsonby and Colin Mackay told Scotland Tonight presenter Rona Dougall which debater they thought came off strongest.
Mr Ponsonby said: "There was no knock-out, killer punch here. Nobody would be saying, 'Hold the front page'; there was no great 'line' journalistically that emerged from the exchanges."
However, there was a clear winner in his estimation. He argued: "In terms of crispness, presentation, making points in a slightly more effective way, I would have no doubt in saying this was a comfortable points victory for Nicola Sturgeon."
The veteran political journalist explained why he had determined the Deputy First Minister victorious in the joust, adding: "If we look at the cross-examination of both of them, I thought that she started off a little bit ponderous; her questions were a little too long. They gave Michael Moore time to think but when she got more crisp she was very effective.
"The 50,000 children in poverty, the IFS question, which Michael Moore simply refused to accept the figure – that, I think, was quite effective. The leaflet on the triple-A rating was quite effective. When it was focused, it was effective."
Mr Mackay agreed that the leader of the SNP's campaign for independence had the edge in the exchange. He said: "I said she had to come out fighting and she certainly came out fighting."
He added: "Overall, I think she probably emerged as the better performer on the night. I don't think there was a massive victory for either side. In terms of the arguments, I don't think we're a massive degree further forward."
The respected political journalist also criticised the politicians for their questioning technique, comparing them unfavourably to presenter John MacKay.
He asserted: "You can see they're both used to answering questions and you can see John Mackay is the pro at the questions. I didn't think either of them were asking succinct enough questions. Towards the end, I felt that Michael Moore was almost defending more in his questions than he was actually putting Nicola Sturgeon on the spot."