Poll: Possible EU withdrawal could boost independence support
Conservative referendum on Europe likely to lead to upswing in Yes votes, survey suggests.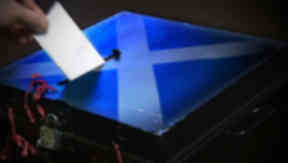 The possibility of UK withdrawal from the EU could boost support for independence, a new poll has found.
The Panelbase poll of 1004 people for the Sunday Times and Real Radio Scotland recorded support for independence at 36% when it asked "should Scotland be an independent country?".
Meanwhile, 44% answered no, and a further 20% said they did not know.
But when asked "how would you be likely to vote in next year's Scottish independence referendum if the UK was looking likely to vote to withdraw from the EU?", 44% said they would be likely to vote yes, matched by 44% likely to vote no, while 12% said they did not know.
Commenting on the poll findings, Ivor Knox, of Panelbase, said: "The prospect of the UK leaving the EU has little impact on those Scots who have formed a view on independence, but among undecided voters three times as many tend to support independence as oppose it, under those circumstances."
The poll, which was conducted between May 10 and 16, comes after the Conservatives published a draft bill to pave the way for a referendum on Britain's EU membership in the next parliament.
David Cameron wants Britain to remain in the EU under renegotiated terms which he wants to put to the public in an in-out referendum to be held by the end of 2017.
SNP MSP Clare Adamson welcomed the poll's findings.
She said: "Plans for the UK to exit Europe change the terms of the debate - putting yes and no neck and neck at 44% - because the Westminster system getting dragged along by a Ukip agenda underlines that it is out of touch with Scotland," she said.
"It shows that only a yes vote puts the people of Scotland in charge of our own future."
The Panelbase survey also placed the SNP ahead in terms of Holyrood elections.
Asked how they would vote in a Scottish election tomorrow, 40% of those polled said they would give their constituency vote to the SNP, compared with 27% for Labour, 12% for the Tories and 5% for the Lib Dems.
The SNP also led the regional vote with 39%, while Labour recorded 23%, the Tories 11% and the Greens and Lib Dems both on 5%.