Denis Healey: Westminster 'worried stiff' about losing North Sea oil
Former Chancellor said 'Scotland could survive perfectly well, economically, if it was independent'.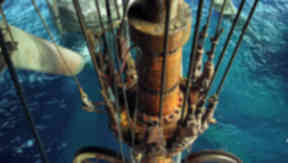 Scotland would prosper under independence thanks to North Sea oil and Westminster politicians are "worried stiff" about losing revenues from offshore production, according to a former Chancellor of the Exchequer.
Baron Healey of Riddlesden, the former Denis Healey, said the UK Government had "underplay[ed] the value of the oil to the country" over fears of the political potency of Scottish nationalism at the time.
The Labour peer's comments came in an interview due to be published in Holyrood magazine on Monday and summarised in the Sunday Post.
Referring to Westminster politicians, Lord Healey said: "I think they are concerned about Scotland taking the oil. I think they are worried stiff about it.
"I think we would suffer enormously if the income from Scottish oil stopped but if the Scots want it, they should have it and we would just need to adjust. But I would think Scotland could survive perfectly well, economically, if it was independent."
The intervention by Baron Healey, who served as Chancellor under Harold Wilson and James Callaghan, will be greeted by nationalists as a vindication of their long-running criticism that Westminster politicians concealed the truth about North Sea energy revenues and the prosperity they could bring to an independent Scotland.
The question was explored by economist Professor Gavin McCrone, who was tasked by Edward Heath's Conservative government in 1974 with analysing the economic value of the offshore resource. His completed report was submitted to the Labour government which had replaced Mr Heath's administration in the intervening period and of which Lord Healey was a senior member.
The report concluded that an independent Scotland which enjoyed control over a share of North Sea oil "would tend to be in chronic surplus to a quite embarrassing degree" and that "Scottish banks could expect to find themselves inundated with a speculative inflow of foreign funds".
Fearing the political ramifications of the report's contents, the government classified it and it entered into public circulation only in 2005 under freedom of information legislation.
Lord Healey, now 95, told Holyrood magazine: "I think we did underplay the value of the oil to the country because of the threat of nationalism but that was mainly down to Thatcher.
"We didn't actually see the rewards from oil in my period in office because we were investing in the infrastructure rather than getting the returns and, really, Thatcher wouldn't have been able to carry out any of her policies without that additional five per cent on GDP from oil. Incredible good luck she had from that."
The question of oil was a hot topic in Thursday's Scotland Tonight debate on the economics of independence. North Sea production made up 17% of Scottish GDP in 2011 and brought in £11.2bn to the Treasury in 2011/12.
The Scottish Government's inaugural Oil and Gas Analytical Bulletin in March 2013 advanced a post-independence scenario which could see "oil and gas production in Scottish waters generating £57bn in tax revenue between 2012-13 and 2017-18".
However, the Centre for Public Policy for Regions warned in a report the same month that "to suggest some sort of new oil-tax revenue boom is about to emerge is not readily supported by the evidence". It added that there would not be "a return to anything like the level of revenues seen in the early 1980s".