UKIP's Scottish leader in 'Alex Salmond expelled from Labour' gaffe
Viscount Monckton made the claim in an interview with STV's Political Correspondent Claire Stewart.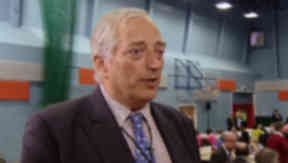 First Minister Alex Salmond was a member of the Labour Party who was expelled for being a socialist, according to UKIP's leader in Scotland.
The Viscount Monckton of Brenchley made the claim in an interview with STV's Political Correspondent Claire Stewart during Thursday night's Scotland Tonight special on the Aberdeen Donside by-election.
Viscount Monckton was being questioned on allegations made by his party's UK leader Nigel Farage that there was an element of anti-English sentiment in Scottish nationalism.
Viscount Monckton, who is president of UKIP in Scotland, said: "We have all had people from the SNP on the streets, saying 'You sound English' -- in fact, I'm more Scottish than most Scots -- but 'You sound English, so go back to England'. Now, that is racism, it's actually against the law. We've told one or two of the people who have said that to us, 'Don't do it again, or we'll have you for it'."
Pressed on whether he thought there were elements in the SNP who had anti-English feelings, Lord Monckton referred to the group of radical supporters of independence who heckled Mr Farage during his visit to Edinburgh in May.
He claimed: "The people who demonstrated in Edinburgh were SNP; we think they were sent by the SNP."
Ms Stewart challenged him on this, pointing out that the activists were from "various socialist parties".
However, Viscount Monckton insisted on his allegation: "That would include the SNP, wouldn't it? Salmond, after all, was thrown out of the Labour Party for being too left-wing. He doesn't like people reminded of that now."
Mr Salmond has been a lifelong SNP supporter, joining the Federation of Student Nationalists as an undergraduate at St Andrews University in 1973. He was a member of the radical leftist organisation, the 79 Group, and was suspended from the SNP after that internal faction was banned by the party leadership. However, he never joined the Labour Party and was later readmitted as a member of the Nationalists.
STV's Political Editor Bernard Ponsonby was bemused by Viscount Monckton's grasp of Scottish political history.
He quipped: "Christopher Monckton with a very interesting take on history, including the revelation that Alex Salmond was expelled from the Labour Party for being too left-wing. I think we can bin that one."