Health Secretary pays tribute to NHS for saving his son's life
Alex Neil, whose son contracted septicemia, congratulated the service ahead of its 65th anniversary.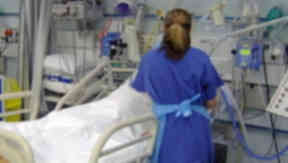 The Health Secretary has marked 65 years of the NHS by thanking the service for saving the life of his son.
Alex Neil's son Michael was 14 when he needed urgent treatment for septicemia, a potentially lethal blood infection.
Mr Neil said he could not be prouder of the health service, repeating his commitment to keep it free for everyone.
"When I visit NHS services across Scotland I never cease to be impressed by the stories of the dedication and compassion provided by staff," he said.
"They have my admiration and gratitude. Not least because I have the NHS to thank for saving my son's life and, as Health Secretary and a father, I couldn't be prouder of what our health service does for the people of Scotland each and every day.
"I will never forget how that experience was different when I was living in America. When my son was ill, the first thing they asked me was whether or not I had insurance or would be paying by credit card.
"I am absolutely committed to the founding values of our NHS. I can promise that, in Scotland, your healthcare will move with the times and develop as our society changes, but while this Government is in charge it will be free at point of access for everyone."
The NHS turns 65 on Friday.
The Scottish Government is launching a website with personal stories from 65 Scots about how the service has helped them.
The 65-lives project includes the experience of Gillian Currie, from Dunfermline in Fife, whose daughter Niamh needed specialist care at birth.
"Eighteen weeks into my pregnancy, a hospital scan revealed that our baby had spina bifida," she said.
"From the moment we received this diagnosis the NHS foetal medicine team at Forth Park Hospital in Kirkcaldy were hugely supportive and provided us with advice and guidance whenever we needed it, also referring us to a number of additional spina bifida organisations.
"When Niamh was born she contracted meningitis, and required specialist care at the Sick Kids Hospital in Edinburgh. The care she received here was also incredible, and all staff members made a very difficult time as easy as possible. We always felt hugely supported.
"Niamh is now two years old and we still visit the hospital regularly for check ups and treatment, and I continue to marvel at the help and support given to us by all the NHS doctors and nurses."