Scotland has lower rate of hospital infections than European average
Figures published on Thursday show 4.7% of patients in Scotland's hospitals are infected.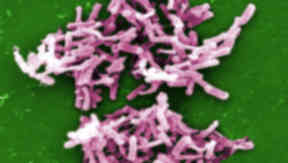 Scotland has a lower rate of hospital infections than the European average.
The European Centre for Disease Control released statistics on Thursday, showing that across the continent an average of 6% of patients in acute hospitals are infected.
In comparison, the rate in Scotland is 4.7%, 1.3% lower.
Healthcare associated infections include MRSA and C Diff, which the Scottish Government say they have been investing in fighting against.
Health secretary Alex Neil said the figures show schemes such as unannounced hospital inspections, research into the diseases and £18m funding for cleaning staff, are working.
He said: "I am delighted to see that our efforts to reduce healthcare associated infections are working and that Scotland is performing well in comparison to the rest of Europe.
"It is vital that patients have confidence in the quality of care and treatment they will receive if they need to go into hospital and this confidence should not be undermined by the fear of contracting an infection.
"That is why tackling HAIsisso important and these figures highlight how effective the efforts of NHS staff to drive down infection rates have been.
"Figures published by HPS this week also show that MRSA cases have reduced by 85.1 per cent since 2007, and Clostridium difficile infections in patients aged 65 and over are now at their lowest ever level."