Trident nuclear sub fleet should be scaled down, says review
Liberal Democrat Danny Alexander ordered the assessment of the Clyde-based system.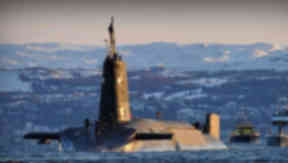 A review of replacing the UK's nuclear deterrent system has argued for a scaled-down Trident force, it has been revealed.
Liberal Democrat minister Danny Alexander ordered the Trident alternatives review, which is believed to recommend the Royal Navy's fleet of nuclear-armed submarines is cut from four to two.
The review, which will be published on Tuesday, is a result of a compromise reached by the Liberal Democrats and the Conservatives in the 2010 coalition agreement.
The fleet of four Vanguard-class submarines at Clyde Naval Base carry the Trident missiles are due to be replaced from 2028, with a final decision on whether to replace all four boats to be taken in 2016.
Treasury Chief Secretary Mr Alexander last week said he hoped the review would "open up a debate about the fact that there are different ways of approaching nuclear deterrents that are responsible with our nation's security whilst recognising that just like other aspects of our defence we don't have to be stuck in the same Cold War postures of the past forever".
A leaked version of Mr Alexander's review suggested that building just two new subs instead of four would save £5bn in upfront expense and a further £1bn in running costs. Other options thought to be put forward in his report include a proposal to cut costs by sometimes putting subs to sea without warheads on board, although unilateral nuclear disarmament will not be included as an option to be considered.
However, a group of former defence secretaries and military chiefs have voiced their support for a like-for-like £25bn replacement of Britain's four nuclear subs.
Defence Secretary Philip Hammond warned it would be "reckless" to downgrade Trident, insisting that two subs would not be able to offer the "continuous at-sea deterrence" which Britain has maintained since the 1960s.
In a letter to the Daily Telegraph, signed by five of Mr Hammond's predecessors as defence secretary and two former chiefs of defence staff, warned the Government not to "take risks with our security" by downgrading Trident.
The wrote: "In an uncertain world, in which the number of nuclear weapons remains high and some states are increasing their holding, we should not take risks with our security by downgrading to a part-time deterrent.
"We cannot possibly foresee what threats will develop over the next 30 years. Reducing our submarine-based Trident capability would weaken our national security for the sake of a very small fraction of the defence budget.
"It is our view that if Britain is to remain a leading global power with strong defences, nothing less than a continuous-at-sea deterrent will do."
The letter was signed by former Conservative defence secretaries Liam Fox and Sir Malcolm Rifkind, alongside Labour's former defence secretaries Bob Ainsworth, Lord Reid of Cardowan and Lord Robertson - who was also the secretary general of Nato between 1999 and 2004. Also signing were ex-chiefs of defence staff Lord Boyce and Lord Stirrup.
Prime Minister David Cameron has left no doubt of his preference for like-for-like replacement of the ageing Trident fleet, which was also backed by Labour's Tony Blair in a 2006 review when he was Prime Minister.
The SNP's Westminster leader and defence spokesperson Angus Robertson MP called the review "a joke".
He said: "The Trident review isn't worth the paper it's written on - any review that doesn't consider getting rid of these weapons of mass destruction is a joke.
"The Westminster establishment seem to have forgotten that Trident is based in Scotland, and neither the people nor parliament of Scotland want it here. The review also fails to mention any other possible sites for the weapons – showing disdain for the people of Scotland, and ignoring next year's referendum.
"This review is in denial, and panders to the vanity of the Westminster system which wants to keep this out-dated, dangerous arsenal of nuclear weapons on the Clyde.
"As this review underlines, only a Yes vote next September will remove weapons of mass destruction from Scotland. A No vote would mean another 50 years of Trident dumped on the Clyde."