Survey finds 59% of Scots intend to vote 'no' at referendum
Almost a third of voters back independence finds YouGov survey for Devo Plus group.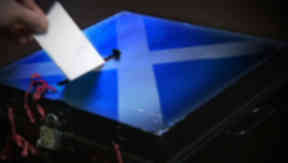 The campaign to keep Scotland in the UK has opened up its largest lead of the year, according to a poll.
The YouGov survey put support for a "no" vote at 59% compared with 29% for a "yes" vote based on the voting intentions of 1171 Scottish adults.
The results show one in 10 people are still undecided and includes 2% of people who said they would not vote.
The next largest gap was recorded in May, when support for independence stood at 31% while support for the union was again 59%.
A different poll that month put the gap at just eight percentage points, according to an analysis of polls this year by Scottish Centre for Social Research.
The latest results were contained in a wider poll of attitudes to the future of the constitution, commissioned by the Devo Plus group, which campaigns for more powers within the union.
Group chairman Ben Thomson said it exposed some "unexpected" results, including the suggestion that only three-quarters of Labour voters plan to vote against independence.
Only 80% of SNP voters have made their minds up to vote for independence, the poll suggests.
Mr Thomson said: "It is interesting that even between the two largest parties we've seen a significant cross-over of voting intentions in the referendum compared to where you might have thought they'd be, given their party allegiance."
He hopes the suggestion of a strong "no" vote will flush out what Labour, Conservatives and Liberal Democrats propose to offer before people in Scotland vote in the referendum in September next year.
In total, 56% of voters want powers set out sooner rather than later, the poll indicates.
Devo Plus wants unionist parties to agree to keep areas such as foreign policy and banking regulation to remain at UK level as part of a "healthy union".
The majority of what Scotland spends should be raised in the country, devolved powers must be made permanent and all-party consultation should be held to set out what powers should be delivered.
A key extra power would be giving Holyrood responsibility to raise almost all the money spent in Scotland, rather than the small proportion at present.
The group's approach was supported by 41% of people, compared to 29% for the existing devolved settlement and 27% for independence, the poll suggests.
Of those who are either undecided or plan to vote "yes" next year, 16% said they would consider opposing independence in return for the promise of more power in Edinburgh.
Mr Thomson said the poll is a "game changer" for unionist parties.
Scottish Liberal Democrat leader Willie Rennie already wants all pro-UK parties to formally commit to reform before the referendum.
In a speech in Edinburgh on Friday, Scottish Conservative leader Ruth Davidson confirmed she will bring forward plans for further reform before the ballot.
Earlier this year, Scottish Labour published recommendations from its devolution commission which describes income tax as the "best candidate" to consider for further devolution.
SNP MSP Linda Fabiani, a member of Holyrood's Referendum Bill Committee, said: "This poll shows that between support for independence and support for more powers, 70% of people back self-government for Scotland and the clear fact is that only a 'yes' vote can deliver more powers and make sure that decisions about Scotland are taken here in Scotland."
A spokesman for the formal pro-independence campaign group Yes Scotland said: "Whatever additional powers the anti-independence parties may or may not promise, whether that is before or after the referendum, they will not come anywhere close to what is proposed by Devo Plus.
"In any event, Devo Plus is not on offer and it is becoming clear to increasing numbers of people that a 'yes' vote is the only way to guarantee the kind of powers they want.
"Next year's referendum is about two choices. One is sticking with a Westminster system that isn't working for Scotland and has led to the UK becoming one of the most unequal countries in the developed world. The other is an opportunity to make decisions that match our own priorities and aspirations and to build a fairer and more prosperous country. Only a Yes vote can deliver that opportunity."
Better Together Campaign Director Blair McDougall said: "This is another encouraging poll for Better Together. First because undecided voters continue to turn their back on the dishonest independence campaign. Second because it shows that we are reaching out to 'yes' voters with our positive message about continuing the success of devolution.
"With a year to go Yes Scotland are further behind than they were when they launched their campaign. This poll will surely add to the sense of crisis in the nationalist camp. However, supporters of Scotland remaining in the UK cannot afford a moment's complacency. The SNP have come back from behind before. The lesson from this poll is that we will need to work as hard over the next year as we have done so far."