Lib Dem boss says SNP 'holding children hostage' on early-years care
Willie Rennie claimed that the SNP leadership will only improve the system after independence.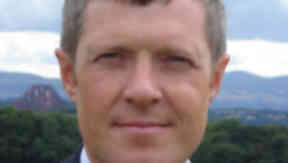 The Scottish Government is being accused of holding a generation of children to ransom with its approach to early-years care provision.
Scottish Liberal Democrat leader Willie Rennie claimed that the SNP leadership will only improve the system after independence.
Mr Rennie told the Scottish Lib Dem conference in Glasgow: "They are demanding nothing short of a ransom from the voters before they release the benefit to our children. They are holding a generation of our children hostage. It's not right.
"I appeal to the Finance Secretary, John Swinney, to intervene. We have worked together before to produce a Budget. We can do it again this year. He should make the change this year to start a childcare revolution in Scotland, not keep Scotland's children hostage for his political ends."
Mr Rennie has frequently campaigned for extended childcare and nursery provision, often using First Minister's Questions to argue his case. Alex Salmond is not listening to Lib Dem proposals on childcare, he told the conference.
He said: "Instead he uses nursery education as bait for the voters. He tells us that Scotland will have the best childcare arrangements on these islands, but only after independence. Now, I have heard some say that the SNP have put Scotland on pause with the referendum. They criticise the Government for doing little to ensure as smooth a path as possible to independence. Well I disagree with them. I think it's worse. They are actively preventing necessary action to help our children.
"Their message to our children is, 'Only if you give us what we want will you get what you need'. Unless you do what we say, you will not be released to achieve your potential."
The Scottish Government said three and four-year-olds are entitled to 475 hours of nursery care a year without cost. There is no automatic entitlement for two-year-olds in Scotland.
The Children and Young People Bill proposes to increase the number of hours of nursery care to 600 for three and four-year-olds, and two-year-olds who are, or have been at any time since turning two, looked after or subject to a kinship care order.
Scottish Government children's minister Aileen Campbell said the £190m announced in the budget will give 121,000 children a year more free nursery hours and help parents back into jobs.
She said: "We want to help more parents with nursery costs and this money will do that. It will pay for more nursery time for 121,000 children a year, including all three and four-year-olds and our most vulnerable two-year-olds. The Scottish Government is saving families £700 per child per year while the UK Government takes away from families, cutting their benefits by on average £700.
"By next year, councils must ask parents what they want and offer more choice. Together with the extra hours, this could mean two full days of nursery a week instead of a few hours a morning or afternoon - giving mums, in particular, more choices and supporting more women back into work or training.
"This is the best nursery care ever given to Scottish families. We are doing a great deal with the powers we have, and taking decisions in Scotland benefits Scots. But we want to do more. We want to have a childcare system among the best in Europe. The Bill is a first step towards this, but while the UK Government remains in control of tax and welfare, we will always be fighting the impact of decisions taken elsewhere.
"That is why we have asked the Council of Economic Advisers to consider how we can use the powers of an independent Scotland to give an even better deal for children, parents and our economic future."
Mr Rennie also addressed his party members on prosecutions guidelines for domestic abuse, saying he wants the Crown to be able to take a tougher stance in light of former MSP Bill Walker's conviction.
Mr Rennie said it was a national disgrace that more than 50,000 domestic incidents are reported to the police every year north of the Border.
He said: "We need to ensure that those who are living with domestic abuse are getting the support they need. And we need to work to make certain that those guilty of these offences receive a punishment that fits their crime. Which is why I am asking the Scottish Government to review the prosecution guidelines for domestic abuse."
Walker, 71, of Alloa in Clackmannanshire, was convicted of 23 domestic abuse charges at the end of a trial at Edinburgh Sheriff Court. He carried out the attacks against his three ex-wives and a stepdaughter between 1967 and 1995.
The former SNP MSP, who was ejected from the party after the allegations were reported in the Sunday Herald, denied the charges. He is due to be sentenced later in September.
Mr Rennie told delegates: "With Bill Walker we saw how even with 23 charges, and 23 guilty verdicts, the possible sentence is limited and restricted. The charity Scottish Women's Aid led the protest against Bill Walker at the Scottish Parliament before he resigned. They have called for a shift in the way we prosecute domestic violence cases. They say that where there is a pattern of abuse it is important that we consider the overall impact that weeks, months or even years of violence has had on victims.
"Too often, violent incidents are treated as isolated incidents. The Bill Walker case made clear that frequently this is simply not true. If Scottish ministers will consider changing this it would allow the Crown to escalate the seriousness to reflect the overall impact of the fear and alarm that ongoing, abusive and controlling behaviour causes. I hope we can win support for that change across the whole Parliament and the whole country."
The conference also touched on the issue of the "bedroom tax", with left-wing campaigners gathered outside the SECC conference venue in Glasgow to protest the Lib Dems' involvement in the Coalition's welfare reforms.
Inside, Baroness Williams of Crosby told delegates: "I find it very hard indeed to raise the slightest enthusiasm for the bedroom tax. I think it was a mistake. I think there were some cases for some elements of welfare reform. For example, I think the idea of trying to get people back to work is a good one. I think it's also a reasonable thing to be very cautious about the way in which welfare money is spent."
Baroness Williams is a veteran of British politics, serving as Education Secretary under Jim Callaghan before quitting Labour to help set up the SDP, which eventually became the Liberal Democrats.