UKIP launch their manifesto
Manifesto reveals intention for tough approach to crime and justice.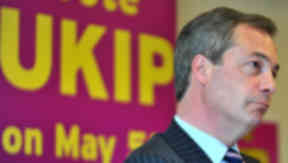 The UK Independence Party launched their manifesto in Edinburgh today, revealing their plans for a tough approach to crime and justice.
If elected, UKIP vows to take a zero tolerance policy on crime. Their manifesto says: "Sentences will mean what they say. Life will mean life. Six months will not mean six weeks. No more early releases for the likes of Megrahi."
The party also supports a three-strikes policy for persistent criminals, and they propose doubling prison places to assist their proposed approach to crime.
The UKIP manifesto outlines the party's desire for locally-elected county police boards to allow voters to set policing priorities in their area.
Other areas of their manifesto call for an end to "uncontrolled" mass immigration; scrapping the smoking ban; and replacing MSPs with Scottish Westminster MPs.
Under the latter proposal, the Scottish Parliament would remain in Edinburgh, but MSPs would be eradicated in favour of Scottish Westminster MPs.
UKIP leader Nigel Farage said: "Scotland's democratic spirit now has no champions but the UK Independence Party. UKIP alone, among the serious political parties, says no one but we, the people of Scotland, or those we elect should make our laws or tax us.
"Whichever way you use your first vote in the Scottish Parliament, please use your second or regional vote to bring real, direct democracy to Scotland, to end all subsidies to pointless wind farms, undemocratically inflicted on our countryside, to save our gallant Scottish regiments, our air bases, our dockyards and our coastguard and to bring street crime, especially knife crime, to an end."