Homicides fall to lowest level since records began four decades ago
Statistics released by the Scottish Government showed there were 62 homicides in 2012/13, a decrease of 32% on 2011/12.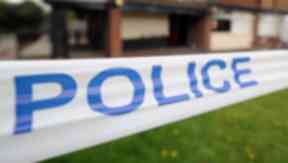 The number of homicides in Scotland has fallen to a record low, according to new figures.
Statistics released by the Scottish Government showed there were 62 homicides in 2012/13, a decrease of 32% on 2011/12.
Ministers said this represented the fewest killings since current records began in 1976 and added that out of the 62 cases, only one remained unsolved.
Three-quarters of homicides took place in residential properties, four-fifths of victims were male and more than half were killed by someone they knew. A further 15% were killed by a partner or ex-partner while fewer than one in ten were killed by a relative.
Forty-two per cent of homicides were carried out with a "sharp implement", a category which includes but is not limited to knives. Seven in ten were reported to have acted while under the influence of alcohol and/or illegal drugs.
Announcing the figures, Justice Secretary Kenny MacAskill touted his government's policies on alcohol, knife culture and police numbers.
He said: "Homicides are continuing to fall, dropping by almost 50% since 2006/7 and are now at their lowest level for 37 years – the fewest ever on record and the lowest in a generation. We are making progress and this trend is to be welcomed but we can't forget that behind these figures are the grieving families of 62 victims having to cope with the death of a loved one.
"It remains the case, as in previous years, that victims are mostly male, killed by someone they know, in a house or flat with the accused often under the influence of alcohol or drugs. The figures confirm that we are right to continue to take action to encourage people away from excessive alcohol consumption, including bringing in legislation on minimum pricing alongside existing measures against irresponsible promotions. Recreational drug use is also falling, particularly amongst young people.
"The main method of killing remains the same – using sharp instruments including knives. The numbers have decreased for the second year running, dropping by more than half since 2006/07 and are now at their lowest level since 1976.
"This Government is constantly looking at new ways of reducing knife crime even further through education and tough enforcement. Scottish courts have the toughest sentencing regime in the UK, funding for our No Knives, Better Lives campaign has doubled, and this, alongside stop and search and other preventative measures, is changing the culture away from young people carrying knives.
"The actions we are taking, together with our partners such as police – over 1000 extra since 2007 - and prosecutors, are making Scotland a safer place to live."
Homicide cases by police force area (and selected councils) 2003/04 to 2012/13
While the Strathclyde force area documented the biggest drop in homicide cases, or 25% overall, it continued to account for the majority of all homicides in Scotland. Sixty-three percent took place in this region, which is home to 42% of the country's population.
Only the Grampian area recorded an increase in the number of killings, rising from one in 2011/12 to five in 2012/13. The Dumfries and Galloway Constabulary area continued to enjoy the lowest homicide rate, with one killing in each of the last three years.
Lord Advocate Frank Mulholland QC also welcomed the drop in recorded homicides, highlighting the 32% reduction in killings.
He said: "I welcome the 32% reduction in homicides from 91 in 2011/12 to 62 in 2012/13. The high solved rate is also welcomed; only one case is as yet unsolved. The reduction in the use of a knife in homicides is particularly welcomed and I would like to thank the public, civic leaders, campaigners, politicians, law enforcement and all who have contributed to the powerful message which is known throughout Scotland that knives can cost lives.
"This deterrent message appears to be working as the homicide and knife statistics demonstrate; 62 homicides is still a matter of concern and we should not be complacent in reducing the power of the message. It is noteworthy that alcohol and drugs feature in many of these homicides, that is also a matter of concern and we should also continue to drive the message home about the dangers of too much alcohol combined with possession of a knife."
Homicide as defined by the statistics includes murder and culpable homicide but excludes death by dangerous driving, death by careless driving, death by careless driving while under the influence of alcohol or illegal drugs, fatal accidents caused by illegal driving and corporate homicide.
The Scottish Conservatives, however, condemned the figures, saying they placed Scotland in the top third of EU countries for murder and other homicide.
The party said Scotland's homicide rate of 1.74 per 100,000 was higher than the level for England and Wales at 1.17. There were also more homicides in Scotland last year than in Poland, France, Spain, Italy or Germany, the Tories said.
The party's justice spokeswoman Margaret Mitchell MSP said: "Instead of hiding behind the fact there's been a decrease, the Scottish Government should be facing up to why Scotland still has such a high homicide rate. Under the SNP, someone is considerably more likely to be the victim of a homicide in Scotland than the rest of the UK, not to mention numerous other European country.
"The fact knives, alcohol and drugs are such a significant factor in these incidents shows the type of problems we have here. The Scottish Government has made much of its zero tolerance approach on knife-crime, but this report shows those weapons are a huge part of the problem. "Alcohol and drugs are also a significant element at a time when reoffending among those given drug treatment and testing orders by way of punishment is extremely high. What is equally worrying is that nearly half of female victims have been killed by a partner or ex-partner, at a time when tackling domestic abuse is supposed to be a priority."