Alex Salmond slams Westminster over Lockerbie dispute
The SNP leader faced criticism over the release of Abdelbaset al-Megrahi in a BBC Question Time appearance.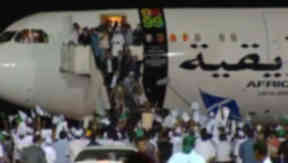 Alex Salmond said he would "take no lectures" from Westminster politicians after former Conservative leader Michael Howard demanded he apologise for the release of Abdelbaset al-Megrahi.
Appearing on the BBC's Question Time programme, the SNP leader said the decision to free the only man convicted of the Lockerbie bombing was taken only "on the basis of Scots law".
Mr Salmond also claimed that "prominent" UK politicians had advocated to the Scottish Government that Megrahi should be released "on the grounds of trade, business and oil".
Megrahi was released from jail in August 2009 on compassionate grounds after the Scottish Government was told he had only three months to live.
Former home secretary Mr Howard had earlier said the decision to allow Megrahi to return to Libya was "a very mistaken decision" and called on Mr Salmond and Scottish Justice Secretary Kenny MacAskill to apologise.
But Mr Salmond criticised the UK's policy towards Libya and its head of state Colonel Gaddafi.
He said: "Over the past few years two British prime ministers have been seen hugging him in desert tents, and Britain has been selling arms to Libya.
"And incidentally, Michael, some of your prominent colleagues advocated to the Scottish Government that Mr al-Megrahi should be released not on the grounds of law, but on grounds of trade business and oil.
"I represent an administration, whether you agree or disagree with our decisions, which has taken its decision on the basis of Scots law. I'm not going to take any lectures from Westminster politicians who have been up to their eyes in arms deals and oil and trade and a variety of other dirty affairs."
Throughout the hour-long programme, no mention was made of the forthcoming Holyrood election.
The BBC was earlier accused of bias after the SNP leader was asked to appear on the show.
Labour submitted formal complaints to both the broadcaster and independent regulator Ofcom, claiming Mr Salmond's appearance gives his party unfair airtime during an election campaign.
The First Minister was the only Holyrood candidate taking part in the show, which was broadcast from Liverpool.
IN DETAIL