eBay founder on Greenwald venture: 'We need to ask deep questions'
Pierre Omidyar is putting $250m of his fortune into a media venture with the journalist who published the Edward Snowden files.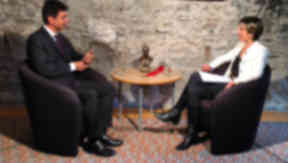 The billionaire founder of eBay has explained why he decided to spend $250m (£150m) of his fortune setting up a media venture with former Guardian journalist Glenn Greenwald.
In an exclusive interview with STV's Scotland Tonight, Pierre Omidyar said he wanted to support reporters who asked "deep questions about what government is doing".
He praised Mr Greenwald's work in reporting the revelations by whistleblower Edward Snowden detailing how the US National Security Agency collects global email and telephone records.
Mr Omidyar arrived in Edinburgh to help present the Carnegie Medal of Philanthropy at the Scottish Parliament.
Speaking to Scotland Tonight, Mr Omidyar questioned the reaction of western governments to the leaks.
He said: "What's important in society is to have people outside of government, asking deep questions about what government is doing.
"I think Glenn and people like him deserve a lot of credit for the courage that they have to stand up to tremendously powerful forces."
He also suggested that claims the leaks were a threat to national security may have been overstated.
"It can sometimes be frankly irresponsible to throw around the idea that lives are at risk, simply because secrets are being exposed."
"When you ask them to actually show where the damage has occurred and where lives have been put at risk, in these cases they haven't shown a single instance."
Mr Greenwald confirmed this week that he was leaving The Guardian, where he first published the Edward Snowden files, to set up the unnamed new venture with Mr Omidyar.
The news service will only exist online and all proceeds will be reinvested in journalism.
Mr Omidyar founded eBay in 1995 and the company is now worth a reported $8bn (£5bn). He says the website's runaway success surprised him at first, but then prompted him and his wife to work out how they could use their money to improve the lives of others.
"We immediately felt a sense of responsibility to make sure that we put that to good use," he said. "It was far more than we could ever use for ourselves or our own family."
He has since invested in projects around the world, giving away at least $1bn to initiatives that fight human trafficking, funds that help people in developing nations start their own businesses, and many other charities and good causes.
His philanthropy follows the example of Andrew Carnegie, the Dunfermline-born 19th-century businessman who became the richest man in the world before he started to give his fortune away.
Mr Omidyar said: "He was a man who believed that everything he did could change the world for the better. It's a great honour to be associated with any organisation that bears his name."