SNP launches new industrial plans for Scotland
John Swinney shared the party's plans for the 're-industrialisation' of the nation.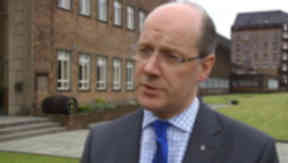 Finance Secretary John Swinney today launched a new document setting out the SNP's plans for the 're-industrialisation' of Scotland.
Goals of the party's "renewables revolution" include investment into the research and development of Scotland's potential in generating more wind and wave energy, as well focusing on making the most of the country's engineering skills. 
The SNP pledged to ensure Scotland is not left behind in the low energy carbon sector, which it claims will rise from a global worth of £3trillion to £4.3trillion per year by 2014.
The party says that the country currently has a quarter of Europe's offshore wind and tidal potential, and a tenth of the continent's wave power sources.
Mr Swinney said the SNP's target for 130,000 jobs in low carbon industries by 2020 would "see the re-industrialisation of Scotland on a huge scale.
"Just as our shipyards were the workshop of the world in the 19th century, the green energy revolution gives us the chance to become the hi-tech workshop of the world in the 21st century."
Mr Swinney presented the document while on a visit to Scottish renewable manufacturer, Burntisland Fabrications Ltd (BiFab) alongside his fellow SNP candidates Tricia Marwick and David Torrance, who are standing for Glenrothes and Kirkcaldy respectively.
The company, which the SNP praised for "leading the way" in the sector, is building the new Oyster 2 wave energy machine at its Methil plant in Fife, as part of a £4m deal with wave energy developer Aquamarine power.
Managing director John Robertson supported the SNP's dedication to the renewable energy sector and is backing the re-election of the SNP government.
He said: "We have enjoyed working very closely with Alex Salmond and the Scottish Government and Scottish Enterprise and have been impressed with the way Alex and his team have interacted with industry, creating opportunities in the interest of Scotland."
Ms Marwick used the opportunity to remind voters of the SNP's goal to ensure high value jobs for Fife and all of Scotland, as well as providing 125,000 apprenticeships across the country.
She added: "That is our vision for Scotland, building on our record which has seen bridge tolls scrapped, record numbers of affordable homes built and crime at a 32-year low, along with our council tax freeze.
"A re-elected SNP Government will build on these achievements, offering even more for Fife families."
Green co-leader Patrick Harvie said: "Labour and the SNP, despite some clear ambition on large-scale renewables, are missing this opportunity, and each is holding the door open either to new nuclear or coal-fired power stations.
"Neither has yet grasped the opportunity to commit to a real national energy-efficiency drive - the cheapest power station is the one you don't have to build."
**IN DETAIL **