GMB Union declares support for No vote in independence referendum
The union said it wanted to see further devolution within the United Kingdom.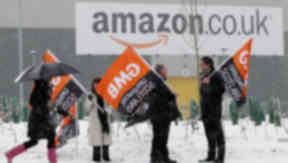 One of the largest trade unions in Scotland has said it will be campaigning for a No vote in next year's independence referendum.
GMB Scotland is the fifth trade union group to join the No campaign and the largest so far, with 56,000 members across the country.
Harry Donaldson, general secretary of the union in Scotland, told the Sunday Herald the decision had been taken after a lengthy consultation with GMB members.
He added that the GMB would not be fighting for the "status quo", but demanding more devolution of power from London to Edinburgh within the UK.
He said: "For our vision of social and economic change, we want to see a programme for delivering this.
"So we will be campaigning on the basis of much more power to the people, to local authorities and communities."
The GMB announced at its congress in June that it would decide its position on independence following a series of consultation meetings and political forums around the country.
Pro-independence activists queried why the decision had been announced before the last of the meetings had taken place in Dundee, Kilmarnock and Glasgow.
In a speech to the union's congress in June, Mr Donaldson warned of "the potential Scotland could face in terms of job losses" if the country became independent. The GMB is one of the main representatives of workers at the Faslane naval base, home of the UK's nuclear submarines.
Mr Donaldson added: "If Scotland became independent in September 2014 there would be a loss of 40 labour MPs at Westminster - a major blow for the Labour Party achieving the return of a Labour government in the next General Election on May 7 2015, throwing doubt on the rest of the UK and its future political direction."
Aslef, Community, Usdaw and the NUM are the other unions to have declared their support for the No campaign.
The Prison Officers' Association in Scotland said last week it would support a Yes vote, while Unite's UK general secretary Len McCluskey said the arguments for independence were "seductive". Only Unison and Unite have a larger Scottish membership than the GMB.
A spokesman for the Better Together campaign said: "This is now the fifth major trade union to come out in support of a no vote next September.
"It is a clear sign that the bodies who represent workers in Scotland believe that we are stronger when we work together and that the principle of solidarity across the UK is much more powerful an argument than throwing up borders between people where none currently exist.
"We welcome this decision."