SNP unveils list of endorsements from business leaders
Two hundred leading figures from the business world have signed a statement in support of Alex Salmond's party.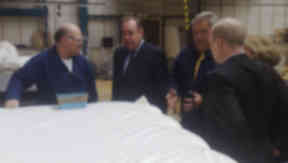 The SNP has welcomed the support of 200 business leaders who have signed a statement endorsing the re-election of Alex Salmond as First Minister.
The list includes leading names from the largest enterprises to small businesses, which the SNP says have benefited from its policies.
Names include Stagecoach boss Brian Souter; Audrey Baxter, of Baxters Food Group; Kwik Fit founder Sir Tom Farmer and former RBS boss Sir George Mathewson.
The list also covers a number of people who run small firms, shops, newsagents and pubs.
Signatories put their names to the statement: "Alex Salmond and his team have been good for Scotland. That is why we support the re-election of Alex Salmond as First Minister on May 5."
Finance Secretary John Swinney, the SNP candidate for Perthshire North, said: "This is hugely significant backing from Scotland's business community for the re-election of an SNP government.
"From captains of industry to the small and medium-sized firms that have benefited from the SNP's small business bonus, the message from the wealth and job creators of Scotland is clear: only the re-election of an SNP government led by Alex Salmond will keep the country on the path to sustained economic recovery and prosperity.
"Only the SNP has a positive vision for jobs, fairness and opportunity, and only by giving both votes to the SNP can people ensure the re-election of Alex Salmond and an SNP government."
The plea for both votes was made as part of an all-out campaign in the last full day of the campaign.
The push includes advertisements on a social networking site, online videos featuring actress Elaine C Smith, as well as videos in Gaelic and sign language.
It follows an exclusive STV poll which indicated the party held a lead over rivals Labour.
Deputy leader Nicola Sturgeon highlighted policies including the five-year council tax freeze and the pledge to retain 1000 extra police.
She added: "The SNP is taking nothing for granted. We will be campaigning up to the wire encouraging voters across the country to give both votes to the SNP."
IN DETAIL