Aberdeen constituency round-up: SNP sweeps city seats
Nationalists take all three Aberdeen city constituencies as Lib Dem vote collapses.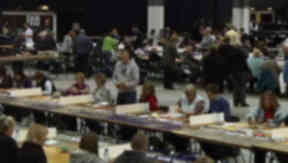 **Kevin Stewart succeeded in toppling incumbent Labour MSP Lewis Macdonald as the SNP's dominance of the north east of Scotland continued. **
Mr Macdonald had held Aberdeenshire Central since 1999 but was unable to hold onto his slender majority to secure a fourth term – losing out by 617 votes to the SNP candidate.
The news of Mr Stewart's victory was met by huge cheers from the SNP contingent inside the Aberdeen Exhibition and Conference Centre. All five Aberdeen constituencies are now held by the Nationalists.
A delighted Mr Stewart said: "It was a close call but it looks like we will have a clean sweep in the north east of Scotland. This is a victory for positivity over negativity and I will be doing my utmost for Aberdeen Central over the coming years."
Mr Stewart also paid tribute to Joanna Strathdee, the original candidate for the constituency.
He said: "Unfortunately Joanna had to pull out due to illness but I am delighted that she is here tonight to enjoy this occasion."
Mr Macdonald, who increased his vote from 7232 in the 2007 election to 9441 but was unable to keep his seat, said: "I want to thank all voters who put their faith in the Labour party and I promise them that we will continue to speak up and stand up for the people of Aberdeen.
"I congratulate Kevin Stewart but I ask him to listen carefully to what the voters have said to him and all of the other candidates. I hope he listens to what they have said on issues such as Union Terrace Gardens and the cuts made by Aberdeen City Council.
"There has obviously been a wider tide of support for the SNP party and we are disappointed because we fought a strong and positive campaign."
Liberal Democrat candidate Sheila Thomson, who finished fourth, said: "In the end our swing has not been as bad as it has been for the Liberal Democrats in other parts of the country.
"We had a small campaign team and I'm really proud of how hard they worked to try to hold onto our vote. Overall our result is not as bad as it could have been."
Scottish Conservatives candidate Sandy Wallace was pleased with his party's showing.
He said: "I have to be honest and say that it is the Scottish National Party's night tonight and other parties have suffered carnage as a result. We have suffered no damage tonight as the electorate realised that there was no case against us."
'Dismal night'
Meanwhile, the SNP's Maureen Watt held back the tears as she gained Aberdeen South and North Kincardine from the Liberal Democrats.
Ms Watt received just under 12,000 votes while her main rival John Sleigh slumped to a third place finish behind Labour's Greg Williams after only winning 4994 votes.
Nicol Stephen had previously won this seat three times in a row but Lib Dem candidate Sleigh's failure summed up a dismal night for the Lib Dems.
Ms Watt said: "It is an absolutely fantastic night, completely beyond everyone's expectations. The SNP has always had a strong tradition in the north east of Scotland. The results have shown that people in the north east do trust people who speak up for them."
Brian Adam held on to his seat at the newly-named Aberdeen Donside constituency with a landslide victory.
The SNP candidate, who won the constituency previously known as Aberdeen North in 2003 and 2007, increased his majority by picking up 55% of the vote to cap a dream night for the Nationalists as they claimed all three Aberdeen constituencies.
Labour candidate Barney Crockett came second with 7613 votes, ahead of Ross Thomson of the Conservatives in third place with 2166 votes.
During an emotional speech, Mr Adam called the Granite City the "powerhouse of Scotland" and claimed it could once again be the powerhouse of Europe.
He said: "I'm absolutely delighted to have doubled my majority. There is no doubt at all that the people of Aberdeen are backing the SNP in a major way, despite the difficulties that the city has had.
"I will endeavour to deliver a fairer and increased settlement for the city from local government and I look forward to being in this new parliament with a very large number of SNP colleagues. I hope that we will be able to make sure that Scotland moves forward, particularly with regard to renewable energy."
Clear message
Mr Adam said the SNP's emphatic victories sent out a clear message to Westminster.
Barney Crockett, the Labout candidate, admitted it had been a very disappointing election for his party.
He said: "What has undone us is that Labour's campaign was not as effective as it should have been. It did not focus sufficiently on the populist nature of the SNP's attraction. We never drew attention to its weaknesses.
"It will be very interesting to see how the SNP take forward their populist programme which does not seem to be underpinned with the necessary funds. I fear that the city and the local authority will lose out in a major way."
A dejected Millie McLeod, who finished fourth with 1606 votes, admitted it had been a dire campaign for the Liberal Democrats.
She added: "Everyone worked so hard but it wasn't our day."