Salmond backs academic at centre of referendum free speech row
First Minister spoke after revelations earlier this week that a minister contacted Dundee University.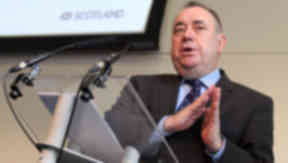 The First Minister has given his backing to an academic at the centre of a free speech row over the independence referendum.
Professor Chris Whatley, a professor of Scottish history at Dundee University, came under fire after speaking at an event organised by the pro-UK Better Together campaign.
Shona Robison, SNP MSP for Dundee City East and the Scottish Government's sports minister, called the university about the academic's appearance, pointing out that he headed the institution's Five Million Questions project on the referendum.
Opposition politicians accused the SNP of "bullying and intimidation" while academics allied to a pro-union campaign wrote a letter of protest.
However, a spokesperson insisted the minister had "simply inquired about Professor Whatley publicly identifying himself as a No campaign supporter by chairing the inaugural meeting of Better Together in Dundee, and how that could be compatible with the stated neutrality of the project".
On Saturday, Alex Salmond endorsed Professor Whatley's work on the Five Million Questions project and his right to free speech.
A spokesman for the First Minister said: "The Scottish Government welcomes all voices and views to the debate on Scotland's future and, as the First Minister made clear last week, endorses both Professor Whatley's leadership of the Five Million Questions project and his right to be involved in the No campaign.
"It is absolutely right that academics, or anyone who wants to contribute to the debate, are encouraged and feel free to express their views. The point, which is touched on in the letter from the academics, is that an impartial academic exercise, like the Five Million Questions project, is not itself allied with one or other side of the referendum debate.
"Scottish Government ministers have shown themselves to be strong supporters of the Dundee University project, participating in several of its events."