Referendum White Paper: Immigration in an independent Scotland
Immigration has been little discussed so far in the referendum campaign.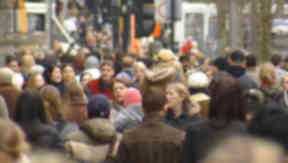 What role would immigration play in an independent Scotland?
Background
Immigration has been little discussed so far in the referendum campaign but the value of skilled migrants and public attitudes about the impact on jobs and demography are questions central to the economics and culture of an independent Scotland.
In 2011/12, Scotland attracted 45,116 migrants from the rest of the UK and 35,900 from overseas; however, in the same period 42,078 Scots migrated to elsewhere in the UK and 26,200 left for a foreign country. This meant that total net migration was just 12,738, with Scots aged 16-24 and 25-34 mostly likely to leave.
First Minister Alex Salmond has advocated a more liberal immigration policy to attract "talented people who want to work in this country". This touting of the economic case for immigration bucks the trend south of the Border where immigration control is a higher priority.
But while Scots are less concerned about immigration than voters in England, there is still a degree of trepidation. Forty-six percent told the Scottish Social Attitudes Survey 2010 that "Scotland would begin to lose its identity if more people from Eastern Europe (for example, Poland and Latvia) came to live in Scotland" while only 33% disagreed.
Theresa May, Home Secretary in the Conservative-Liberal Democrat government at Westminister has warned that independence would "open Scotland's border up to mass immigration" because of membership of the free-movement Schengen area.
However, Yes Scotland, the pro-independence group, argues that a constitutional change will give Scotland the opportunity to craft its own immigration policies.
They say: "Yes Scotland believes that UK immigration policy is not appropriate for Scotland. For example, our Universities are critical of restrictions on student visas which are harming their ability to recruit and retain the brightest students and academics from around the world.
"Attracting younger workers is also part of the current Scottish Government's policy for tackling demographic change and an ageing population."
What the White Paper says:
"Scotland's differing demographic and migration needs mean that the current UK immigration system has not served our interests. This Government plans, following independence, a points based immigration system, targeted at particular Scottish needs. The system will enable us to meet the needs of Scottish society with greater flexibility.
"For example, it could provide incentives to migrants who move to live and work in remoter geographical areas – assisting with community sustainability, or adding new categories of skills.
"We will also reintroduce student visas removed by Westminster to encourage more talented people from around the world to further their education in Scotland, providing income for Scotland's education institutions and contributing to diversity.
"In taking forward the result of a vote for independence, we will ensure that British citizens "habitually resident" in Scotland on independence will automatically be considered Scottish citizens.
"This will include British citizens who hold dual citizenship with another country. Scottish-born British citizens currently living outside of Scotland will also automatically be considered Scottish citizens. Other people will be able to register or apply for Scottish citizenship on independence based on clear criteria.
"All Scottish citizens will have the right to acquire a Scottish passport, although there will be no requirement to hold one.
"We plan that citizens will be able to apply for Scottish passports from the date of independence."