Scotland Tonight: Which referendum issues are key for the undecided?
Focus group of voters who are still on the fence about how they will vote discuss the referendum.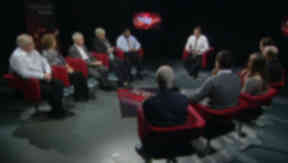 A focus group of undecided voters have come together to reveal what politicians must do to win their vote in the independence referendum.
The ten specially selected voters are all still on the fence about which way they will vote.
The panel, chaired by Ipsos MORI director Mark Diffley and broadcast on Scotland Tonight on Monday, tackled the issues are the forefront of the voters' minds.
The results suggest voters are as concerned about political and constitutional questions as they are about economic matters.
One panellist said: "To me, it's probably going to be about the economic issues, whether we would be economically safe if we become independent."
A second told the group: "For me, it's political — and I'm starting to wonder if we might get better representation with our own parliament rather than in the existing one."
A third explained: "It's about education, whether we have to pay fees for university and also about youth unemployment once we get out of university."
The Scottish Government's White Paper on independence will be published at 10.30am on Tuesday. STV will have full coverage on air and online here.