What the commentators say about the Scottish independence White Paper
Views from the dozens of journalists who gathered for the Scottish independence White Paper launch.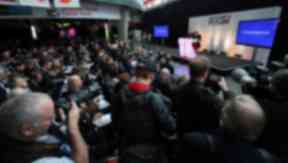 Dozens of journalists and political commentators gathered for the launch of the independence White Paper on Scottish independence.
The event at Glasgow's Science Centre attracted media from as far afield as China - as well as UK and Scottish journalists.
The one-hour launch and question and answer question gave a variety of views from those there at the launch and watching on social media.
Here is a selection of their views and verdicts on the White Paper, the details outlined and performance of First Minister Alex Salmond and deputy Nicola Sturgeon.
Lesley Riddoch, commentator
Overall polished performance fm Salmond & Sturgeon with more detail fm Nic than Alex. Confident relaxed double act facing press scepticism

— Lesley Riddoch (@LesleyRiddoch) November 26, 2013
David Maddox, Scotsman
#whitepaper suggests a much more open door policy for an indy Scotland than rUK but would this lead to border posts?

— David Maddox (@DavidPBMaddox) November 26, 2013
Bonnie Greer, writer and social commentator
A lot of snarky tweets re: #whitepaper. Most powerful argument in the world is that of a people who want to be free.#Scotland #AlexSalmond

— Bonnie Greer (@Bonn1eGreer) November 26, 2013
Kenny Farquharson, Scotland on Sunday
Surprised at the extent to which SNP manifesto for first indy election is marbled thru #indyplan. Very strange for a white paper.

— Kenny Farquharson (@KennyFarq) November 26, 2013
Graham Grant, Scottish Daily Mail
#whitepaper panders to every Leftist whim and cosy assumption ever made about the Scots: anti-Trident,pro-immigration,relaxed about asylum

— Graham Grant (@GrahamGGrant) November 26, 2013
Alasdair Soussi, foreign affairs journalist
An impressive piece of work - legit Qs must be asked about it - but one can't say it's not considerable and damn historic. #indyplan

— Alasdair Soussi (@AlasdairSoussi) November 26, 2013
Joan McAlpine, SNP MSP
@JoanMcAlpine: Who do you trust with the future of #Scotland?: http://t.co/QTdlMH6YCX

— The Daily Record (@Daily_Record) November 26, 2013
Kevin Maguire, Daily Mirror
See why Alex Salmond's trying to bore Scotland into submission when there are more questions than his answers

— Kevin Maguire (@Kevin_Maguire) November 26, 2013
Natalie McGarry, Nationalist blogger
All 32 years of my life Scotland has contributed a higher percentage in than it gets out of UK. No question we can afford it. #indyplan

— Natalie McGarry (@nataliemcgarry) November 26, 2013
Michael Blackley, Scottish Mail on Sunday
Alex Salmond didn't give a guarantee on keeping the pound and having no border controls with England. Because he cant. #indyplan #indyref.

— Michael Blackley (@Mike_Blackley) November 26, 2013
Alex Massie, libertarian commentator
Scottish independence has become a little more probable today than it was yesterday. #indyplan #indyref http://t.co/pgJlNOaRLt

— alexmassie (@alexmassie) November 26, 2013
Kevin Williamson, Bella Caledonia
Launch of #indyplan skilful, nuanced & positive. Every Q from journos answered with clarity. Job well done @AlexSalmond & @NicolaSturgeon

— Kevin Williamson (@williamsonkev) November 26, 2013
Duncan Hothersall, Labour blogger
In #indyplan we see the true face of nationalism: the merger of party and government into a single entity. Dangerous times. #indyref

— Duncan Hothersall (@dhothersall) November 26, 2013
Kate Higgins, pro-independence blogger
The FM shows he's Masterchef of media confs. Calm. Measured. A dollop of logic. A pinch of detail. More than a hint of aspiration #indyplan

— Kate Higgins (@burdzeyeview) November 26, 2013
Nick Robinson, BBC
Where are the "ifs...perhaps...fingers crossed" I ask @AlexSalmond. His answer = we will be judged to be "reasonable & logical" #whitepaper

— Nick Robinson (@bbcnickrobinson) November 26, 2013
Gerry Hassan, writer and policy analyst
Some of London media nonplussed by non-Braveheart style of #indyplan. Yup we arent the restless natives of old. More serious now.

— Gerry Hassan (@GerryHassan) November 26, 2013
John MacKay, STV News
Excellent summary of the White Paper here. http://t.co/UT5U7v4zHO

— John MacKay (@RealMacKaySTV) November 26, 2013