MSPs 'will not take 11% pay rise' that MPs are due to receive
Alex Salmond claimed pay for politicians should not go beyond public sector constraints.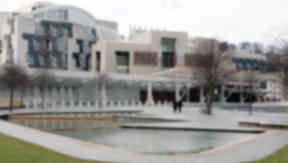 The First Minister has stated MSPs will not be in line to receive an 11% pay rise like their Westminster counterparts.
Currently, pay rises for MPs would normally automatically apply to elected representatives at the Scottish Parliament.
The Independent Parliamentary Standards Authority (Ipsa) is expected to announce a boost to basic salaries to £74,000 from 2015 - 11% higher than at present.
On Monday, Scottish Parliament Presiding Officer Tricia Marwick announced Scottish Parliamentary Corporate Body (Spcb) will recommend that the current link with MPs' pay will be broken and MSPs pay should be "directly linked to pay increases for public sector employees in Scotland."
All three main party leaders have condemned the increase at a time of national austerity, with both Labour's Ed Miliband and Liberal Democrat Nick Clegg pledged to shun the extra money although Prime Minister David Cameron has not done the same.
In response to the recommendations, Alex Salmond said there was "cross-party support at Holyrood" to break the current link between MPs' pay and that of MSPs.
He stated: "Pay for MPs, and MSPs, should not rise beyond the limits of the restraints currently placed on public sector pay.
"It is ludicrous to suggest that parliamentarians should be given anything beyond these norms, at a time when public sector workers are having to make do with much, much lower pay increases.
"The Scottish Parliament should not, and will not follow Westminster on this."
MSPs' pay has been set at 87.5% of MPs' pay since 2002. Mrs Marwick said: "The Spcb has been aware of the Ipsa consultation for some time and has been considering the most appropriate mechanism for setting MSPs' pay in the future. It is unthinkable that a significant pay rise for MSPs could be agreed, particularly in the current economic climate when many of our constituents are struggling to make ends meet.
"The Spcb is therefore proposing that the current link with MPs pay be broken and that instead we put future increases in MSPs pay on an equal footing with those in the public sector in Scotland. It is incumbent on us to show leadership and restraint and to limit our increase in pay to the same level as the public sector. The Spcb appreciates the support of all the party leaders and will take steps at the appropriate time to make the recommendation to the Parliament for approval".
An Ipsa survey of MPs, published in January, found more than two thirds (69%) felt they were underpaid on £65,738 - with the average suggested rate £86,250.
The YouGov research found that, on average, Tories said their salary should be £96,740, while Lib Dems thought the right amount was £78,361 and Labour £77,322.
One MP insisted they should get £40,000 or less, but a fifth of those questioned said they deserved £95,000 or more.