STV poll: Labour closes in on SNP in Holyrood voting intentions
Among those certain to vote at the next Scottish Parliament elections, Labour enjoys 34% support, two points behind the SNP.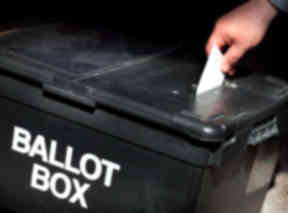 Scottish Labour has narrowed the gap on the SNP in Holyrood voting intentions, a new poll for STV News has shown.
Voters were asked: "If there were elections to the Scottish Parliament tomorrow, how would you use your first vote?"
Among those certain to vote, Labour enjoys 34% support, two points behind the SNP on 36%.
The Scottish Conservatives have risen to 15% while the Scottish Liberal Democrats have remained on seven per cent. A further seven per cent supports other parties.
When all voters are taken into consideration, Scottish Labour moves into first place with 36%, ahead of the SNP's 35% and the Scottish Conservatives' 15%. The Scottish Lib Dems gain a point to go up to eight per cent and "others" go down to six per cent.
The poll, which was conducted by Ipsos-MORI Scotland, came one day after an STV poll showed a boost in support for the Yes campaign in the independence referendum.
Yes had risen three per cent to 34% while No had dropped two per cent to 57%. Ten per cent were still undecided.
Mark Diffley, director at Ipsos-MORI Scotland, said: "The SNP would be likely to remain the largest party at Holyrood if there were an election held now but Scottish Labour will be pleased to see the gap between the main two parties close, even if their own support has not increased.
"The First Minister and his deputy remain the most well-known and popular political figures in Scotland, a factor which they hope will be important in the independence referendum campaign next year."
The next election will take place in May 2016, either for the current devolved parliament within the United Kingdom or for the parliament of an independent Scotland, depending on how Scots vote in the September 2014 referendum.
The findings show that both main parties have lost ground in the last three months, with the SNP falling five per cent and Scottish Labour three per cent on STV's September poll of voting intentions.
Derek Mackay, business convener for the SNP, welcomed the poll's findings.
He said: "This is an excellent poll for the SNP - showing both positive party and leadership satisfaction ratings. After more than six-and-a-half years in office, SNP support remains in the lead - and the First Minister and Deputy First Minister are the most well-known and popular leaders in Scotland in terms of those who are satisfied with the job they do."
Voters were asked about their satisfaction with the party leaders. The highest score went to Scottish Green leader Patrick Harvie, who rated +13 with a satisfied/dissatisfied/don't know spread of 31%/18%/51%. This was followed by Scottish Labour leader Johann Lamont, whom voters ranked at +9 with a 40%/31%/29% spread.
First Minister Alex Salmond was the only party leader to reach the 50% mark on voter satisfaction but this was counterbalanced by 43% who disapproved of his performance. Only seven per cent had no opinion. This gave Mr Salmond a net satisfaction rate of +7.
Scottish Conservative boss Ruth Davidson received a +2 net satisfaction rating, with a 34%/32%/34% satisfied/dissatisfied/don't know spread, while Willie Rennie, leader of the Scottish Lib Dems, was the only Scotland-based leader to receive a negative overall ranking. He was rated -5, with 24% approving, 29% disapproving and 47% giving no opinion.
By far, the most unpopular leader was Prime Minister David Cameron, by a margin of almost two-to-one. His net satisfaction was -28, with a spread of 33%/61%/7%.
The poll also gave a boost to Deputy First Minister Nicola Sturgeon, who is leading the SNP's campaign for Scottish independence. Eighty per cent of Yes supporters are satisfied with Ms Sturgeon's performance while only 53% of No supporters approve of Better Together chief Alistair Darling's performance.
Among all votes, Ms Sturgeon enjoys a 51% approval rating set against 40% for Mr Darling.
Ipsos-MORI Scotland interviewed 1006 Scots over the age of 16 between November 29 and December 5.
Note: Where results do not add up to 100%, this may be due to computer rounding.