MSPs reject additional religious protections in gay marriage Bill
SNP MSP Richard Lyle proposed changes so that an adoptive parent or foster carer's views on marriage cannot be taken into account.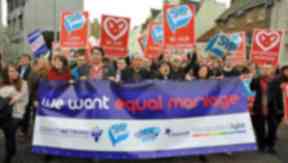 Attempts to amend gay marriage legislation to provide further protections for those who are opposed to it on religious grounds have been rejected by a Holyrood committee.
The Equal Opportunities Committee voted against changes to the Marriage and Civil Partnership (Scotland) Bill which were aimed at enhancing protections for religious bodies and celebrants, potential foster carers and adoptive parents, and public authority workers who do not support same-sex marriage.
SNP MSP Richard Lyle proposed changes which would introduce a clause stating that a potential adoptive parent or foster carer's views on marriage cannot be taken into account during the fostering or adoption process.
Mr Lyle, who adopted his daughter 31 years ago after a lengthy process, said: "Should same-sex marriage become law there is a very real danger that potential foster carers and adopters may be wrongly deemed homophobic, because of their opposition to same-sex marriage, and therefore may not be (deemed) suited to the role."
He added: "I trust that all members of the committee would agree that it would be a terrible injustice for everyone concerned if otherwise suitable adopters or foster carers were turned down because of their views on marriage.
"The legislation should therefore include a clause stating that views on the nature of marriage can't be taken into consideration during the process of approving foster carers or adoptive parents."
His proposal was rejected by the committee during its consideration of stage two amendments.
Committee member Marco Biagi said he would be concerned if a child who had been cared for by a same-sex couple was then moved into a family where there was an objection to the previous arrangements.
"That would be a material consideration," he said.
Health Secretary Alex Neil said: "I do not consider it necessary to amend the law on fostering and adoption in relation to same-sex marriage.
"It is already the case that views on same-sex marriage cannot disqualify anyone from becoming a foster carer or an adoptive parent."
He added that "views on same-sex marriage are likely to be irrelevant" in the process.
Amendments from SNP MSP John Mason aimed at "bolstering protection for those with religious views who do not wish to participate in same-sex marriage", and "protecting expression of belief in marriage between persons of different sex" were also voted down.
Commenting on the latter, Mr Mason said: "The purpose of the amendment is to reflect the very high level of concern about same-sex marriage. We need to make absolutely certain that should the law be changed, those who hold to the current definition of marriage will be fully protected.
"By agreeing to this amendment parliament will be setting the strongest possible signal that intolerance of those who believe in the previous definition of marriage will itself not be tolerated."
Mr Neil said: "The Government has sought to have a very balanced approach to this, to accommodate the extension of the freedom of rights for same-sex couples, while at the same time protect the rights of religious organisations and celebrants, and I am not going to support anything that disturbs that balance in my view. Because I think that balance is very important."
He added that "considerable steps" have already been taken to support bodies and celebrants who do not wish to participate in same-sex marriage, with an opt-in rather than opt-out system for performing same-sex marriage.
Further amendments from Labour MSP Siobhan McMahon to give enhanced protections for district registrars and public authority workers were also voted down by the committee.