Need to be 'realistic' about independence risks says business chief
'The CBI believes that the nations of the United Kingdom are stronger together' says director.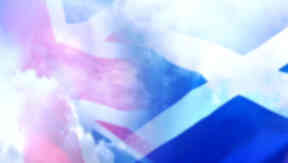 The Scottish Government must be "open and realistic" about any risks and costs of independence, an organisation representing business has said.
In a New Year message, Iain McMillan, director of the Confederation of British Industry (CBI) Scotland, said companies are concerned about issues such as currency and membership of the EU.
The organisation has set out its position to remain in the UK.
Mr McMillan said: "The CBI believes that the nations of the United Kingdom are stronger together and benefit in so many ways from our single market and single economic, fiscal and regulatory frameworks. We also share costs, risks and common values in an uncertain world.
"We recognise, of course, that the Scottish Government has a mandate and is entitled to put its case for independence. But businesses are troubled by the risks and costs involved and, in 2014, the Scottish Government must also be open and realistic with business and the people who elected them in acknowledging this."
Mr McMillan also highlighted concerns about any cost implications for businesses.
"The laws and rules, currently common to both Scotland and the rest of the UK, will diverge over time, thus raising the cost of conducting business across the Scottish border with other parts of the UK. Scotland's tax system will diverge from that in other parts of the UK and result in more costly and complex operations," he claimed.
"Companies will have to deal with more than one regulator in a number of sectors including financial services. Thus fuelling additional costs for business.
"While pressing their case for independence, the Scottish Government also needs to acknowledge these risks and costs and inform the people of Scotland that they have credible and sophisticated measures ready to deal with them in a way that will safeguard Scotland's economy, competitiveness and jobs. In 2014, Scotland's businesses and people deserve nothing less."
But pro-independence group Business for Scotland hit back at the CBI.
Tony Banks, a Business for Scotland board member and founder and head of Balhousie Care Group, said: "With only a handful of Scottish-headquartered businesses as members, the CBI has never asked its Scottish members, including myself, where they stand on the issue and would get a shock if they did."
Business for Scotland chief executive Gordon MacIntyre-Kemp said: "The truth is there is no positive plan for Scotland after a No vote to which business can rally. Business people, even those who would traditionally gravitate to the Conservative and Unionist party, know this simply isn't good enough.
"When faced with the detailed, fully costed and very positive plan for a better Scotland in the form of the Scotland's Future published last month, business people are digesting a compelling business case for Yes.
"Most business people are more worried about the London Government's plans for an in/out EU referendum and the fact that Ukip-led EU scepticism will lead to Scotland being ripped out of the EU (against its wishes) after a No vote in September.
"The prospect of not being part of the EU for foreign direct investment would be much more serious. I don't see why somebody wanting to build a factory that had the EU as a major trading partner would put it in the UK, given that the terms of trade would be completely unknown. That would bring uncertainty and that's why the quicker it's resolved the better.
"Business people are not afraid of Scotland's democratically elected government but they do fear being associated with an unprofessional, negative and scaremongering campaign that doesn't have a positive plan for the country.
He added: "It may be true that business people are cautious about change but this does not mean they want to campaign for no change. They also recognise that change is a constant in life.
"As the positive benefits of managed reform become clearer and more and more business people engage with the facts, a steady flow towards Yes will continue in 2014."