New poll suggests support for independence growing among Scots
Results published as businessman launches online referendum forum.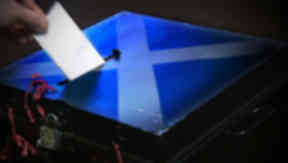 The independence referendum is "way closer to call than anyone thinks" following a new poll indicating a swing towards the Yes campaign, according to a Scottish entrepreneur.
Tom Hunter has launched a forum to help undecided voters make an informed choice, insisting Scotland's future is "too important to leave to the politicians alone".
The launch of his ScotlandSeptember18 website is accompanied by a new TNS poll showing support for independence continues to grow at 29%, up from 27% in December and 26% in November in previous TNS polls.
Support for the union has remained fairly steady at 42%, the same as in November and one point higher than in December.
Undecided voters have dropped to 29% from 33% in December indicating the "influential role" that this group will have in the referendum, according to TNS head in Scotland Tom Costley.
The latest survey of 1054 people between January 14 and 20 is "by far the most comprehensive poll TNS have undertaken in relation to the critical issues facing voters," Mr Costley said.
Just 14% of people said they had read any of the Scottish Government's white paper on independence, although nearly three quarters had heard of it. Nearly two thirds say the Better Together campaign needs to be seen and heard more, with 56% saying the same about Yes Scotland.
More than two thirds think Prime Minister David Cameron should debate with First Minister Alex Salmond and only 17% believe he should not.
Around four fifths of undecided voters say they do not have enough knowledge to help them decide how to vote.
Mr Hunter said: "It is my belief that the referendum is way closer to call than anyone thinks and for that reason I believe many Scots need far more data and evidence in order to make an informed choice.
"This poll vindicates that position, with 56% of adults in Scotland saying they do not have enough knowledge about the issues related to independence to decide how to vote.
"Undoubtedly this is the biggest decision we will take in 300 years and to do so Scots need answers, not rhetoric.
"Personally I concluded I didn't have enough information to make up my own mind, hence I've established this entity to attempt to throw as much evidenced-backed light on the subject as possible."
He will not announce his own voting intention nor use his position or money to influence anyone else's vote, he said.
Mr Costley said: "The results show that many feel they are lacking knowledge and information about the debate, particularly those who are currently undecided about how they will vote.
"Given the influential role which this group could play in the outcome of the referendum, there is a clear need for more and better information from both sides on those issues which are of most relevance to people."
'Neck-and-neck'
Deputy First Minister Nicola Sturgeon said Mr Hunter had made a "welcome and positive" contribution to the referendum which showed that voters wanted detailed information and support a debate between the Prime Minister and Alex Salmond.
She said: "The gaping hole in the debate is the lack of any answers to the questions we have posed to the anti-independence campaign about what would happen to Scotland if the vote is No - in terms of more cuts to Scotland's budget, Westminster's dismantling of the welfare state, and the danger of being dragged out of Europe against our will.
"As a point of fact, the ICM/Scotland on Sunday poll remains the most recent one - which shows the referendum virtually neck-and-neck - as it was conducted entirely after this TNS survey. But it is encouraging nonetheless that Yes support in the TNS poll is 41% after 'don't knows' are excluded - which is up on the period before the white paper publication, confirming that momentum is very much with Yes."
Mr Salmond also renewed his challenge for the Prime Minister to face him in a televised debate.
In a new letter to Number 10, Mr Salmond said: "It has been reported that you plan to hold a meeting of your Cabinet in the north east on February 24.
"By happy coincidence, the Scottish Cabinet are meeting in Portlethen on the same day, followed by a public question and answer session with some of the people who will be deciding Scotland's future in September's referendum. As you will know, Portlethen is just seven miles from Aberdeen.
"UK Government ministers, including yourself, regularly come to Scotland to make the case against independence, and yet you consistently refuse to debate the issues with me.
"Once again, I challenge you to that debate, an encounter which is supported by the overwhelming majority of the people of Scotland - and indeed by people across the rest of the UK as well.
"As we will both be in the same area on February 24th, that would be the ideal time and place."
Mr Cameron wrote to Mr Salmond last year stating his belief that the debate should be led in Scotland by former chancellor Alistair Darling, head of the Better Together campaign to keep Scotland in the UK.