Labour MP warns party over 'fragmentary' devolution of income tax
Ken Macintosh spoke out against one of the early proposals in Labour's internal review of extra powers.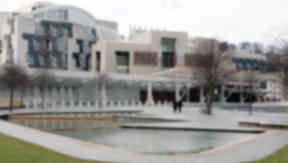 A Labour MSP has warned his party against trying to gain control of income tax at Holyrood, claiming it would cut the tax base and lead to independence by default.
Ken Macintosh spoke out against one of the early proposals in Labour's internal review of what extra powers should be considered for the Scottish Parliament as part of the UK.
"What really worries me about this proposal is that it would radically reduce our tax base and put us in grave danger of devolving so many powers that we effectively become independent by default," he said.
The proposal was revealed in an interim report by Labour last year.
Leader Johann Lamont said some Labour members may be concerned about "radical" proposals. While suggesting a push for control of income tax, it said the plan could be shelved if it becomes clear the administrative costs are too high to make it worthwhile.
It could also be abandoned if it leads to suggestions that the number of MPs at Westminster should be reduced, or that the Barnett formula which allocates money across the UK is likely to be scrapped.
Mr Macintosh said the proposal, which would need Westminster approval, should not be used to counter the drive for independence.
"With 18% of all UK higher rate taxpayers living in and around London compared to just 8% in Scotland, we would be cutting off our nose to spite our face by fully devolving income tax. It would not be fair to a devolved Scotland, it would be less redistributive and less progressive too," he said.
"Going too far in devolving tax or benefits risks fragmenting the system and breaking down that shared sense of our common future. For reasons of economic as well as political and social cohesion, we should continue to exercise joint decision making on income tax with our fellow UK citizens.
"More fundamentally I do not believe we respond to the demands of those who support independence by constantly seeking further powers to devolve, but by pointing to the way we can transform Scotland within the existing devolved settlement."
A Scottish Labour spokesman said: "The Devolution Commission has received a wide range of views on how we strengthen the Scottish Parliament and we will take them all into consideration before presenting our final report in the spring.
"We believe devolution gives Scots the best of both worlds, a strong Scottish Parliament backed by the economic security and certainty of the UK. The only threat to devolution is independence and Alex Salmond's plans to hand key decisions about our future to a foreign government as a price for keeping the pound if there is a 'Yes' vote."
Stewart Maxwell, an SNP MSP on Holyrood's Referendum Bill Committee, said: "Ken Macintosh's opposition to more tax powers for the Scottish Parliament highlights the fact that the only way for Scotland to gain the powers we need is to vote 'Yes' on September 18.
"We know from the poll commissioned by the No campaign itself - as well as the Social Attitudes Survey - that independence is more popular than the status quo, yet no change is effectively what Mr Macintosh is proposing."
He continued: "Labour is split from top to bottom, and Mr Macintosh's comments are completely out of line with the wishes of the people of Scotland, who want tax and welfare to be controlled in Scotland. That can only be delivered by a 'Yes' vote."