Plans to assign every Scottish child a state guardian under fire
Aileen Campbell defended the Scottish Government proposals, after they were branded a 'snooper's charter'.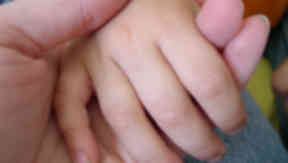 Controversial plans for a named guardian to be appointed for every youngster in Scotland will help provide a "safety net for those who need one", the Children's Minister has insisted.
Aileen Campbell defended the Scottish Government proposals, after they were branded a "snooper's charter" by a former church leader earlier this week.
Six former moderators of the Free Church of Scotland and the current moderator the Reverend Angus Howat stepped in to write to First Minister Alex Salmond, urging him to "restore some common sense" to the proposed new laws.
Now the Church of Scotland has claimed the change risked diminishing the role of parents "with no obvious benefit for the most vulnerable in society".
But writing in The Herald newspaper, Ms Campbell said appointing a named person for every child would help "provide a safety net for those who need one".
She stated: "No child should fall through the net, whether because their parents don't know where to seek help or because professionals aren't clear where responsibilities lie and whom they should be speaking to when concerns emerge."
The proposal that every child should have a named person appointed for them is included in the Children and Young People (Scotland) Bill, which is expected to gain its final approval at Holyrood next week.
The legislation sets out that a named person, such as a health worker or a head teacher, would be responsible for safeguarding a child's welfare and liaising with their family.
The Law Society of Scotland has already warned it could interfere with respect for family and private life, and conflict with human rights, while the Faculty of Advocates said the legislation included an "indiscriminate provision for possible interference in the lives of all children".
Ms Campbell said that "as a mother and Minister for Children and Young People, my overriding priority is to improve safeguards and protect Scotland's children".
She insisted that the Bill would "go some way to helping us to meet the aim of giving all of Scotland's children the best start in life".
She said that "misunderstanding and misrepresentation of the named person role have given rise to extraordinary claims that the legislation will introduce 'state snoopers' with a legal right to 'order monitors into people's homes"'.
But she stressed: "The Bill gives the named person no such right. The individual, usually a health visitor and later a senior or head teacher known to the family, will ensure every child, along with his or her family, can access some extra support if they need it."
She argued that the named person system, which is already in place in the Highland Council area, gives families a clear point of contact if they have worries about their child, and also "allows agencies to respond more promptly to parents who raise concerns about their child's well-being and reduce any risks of greater problems later".
The Children's Minister said: "I have consistently said that parents and carers are the best people to raise their children. Professionals and parents may identify where concerns about a child's well-being are emerging and the named person can offer initial help. But the parent is under no obligation to engage with the named person or the service offered."
But the Reverend Sally Foster-Fulton, convener of the Church of Scotland's Church and Society Council, told The Herald: "The family is the fundamental unit of society. The concept of a named person diminishes the role of parents with no obvious benefit for the most vulnerable in society."
She added: "MSPs must ask themselves: will this proposal do anything other than reduce the time professionals such as nurses and school staff have to support children who really need help, without providing a useful service to anyone else?"