Census: Six in ten people define themselves exclusively as Scottish
People aged between ten and 14 were most likely to call themselves solely Scottish.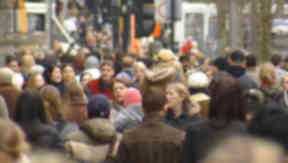 Six out of every ten people living in Scotland define themselves exclusively as Scottish.
Sixty-two per cent of the population gave their identity as "Scottish" in the last census.
The figure emerged in the latest results from the 2011 population survey.
People aged between ten and 14 were most likely to call themselves solely Scottish, with 71% citing that as their identity.
Those between 30 and 34 were least likely to use that definition, with 57% describing themselves as Scottish alone.
The second biggest identity group was a mixture of Scottish and British, which was subscribed to by 18% of the population, and was most common amongst those over 65.
Only eight per cent considered themselves exclusively British while the category "other identity" was populated by four per cent of respondents.
The 2011 census asked "What do you feel is your national identity?", and advised respondents to "tick ALL that apply".
The options given were Scottish, English, Welsh, Northern Irish, British or other.
The data appears to contrast with survey and polling data published in recent years.
The 2013 Social Attitudes Survey found mixed Scottish and British identities the most popular choices. Twenty-nine per cent said they were "more Scottish than British" while another 29% answered "equally Scottish and British".
"Scottish not British" attracted 25%, "British not Scottish" six per cent, and "more British than Scottish" four per cent. Six per cent opted for "other".
Elsewhere in the census, 34% of all ethnic minority groups felt Scottish or Scottish in addition to another identity. Sixty per cent of people from a mixed background had some form of Scottish identity while the figure was 50% for those from a Pakistani ethnic group.
Only 21% of people from an African ethnic group identified as Scottish.
Most respondents indicated they had "no religion".
However, the most common faith for those who gave their national identity as "other" was Roman Catholicism, with 36% giving that response.
The Church of Scotland was the most common religious affiliation given by those who considered themselves both Scottish and British, with 44% answering that the Kirk was their religious group.