STV poll: Should Scotland be an independent country? Yes 32% No 57%
Chancellor George Osborne's intervention on currency appears to have paid off, a new STV poll shows.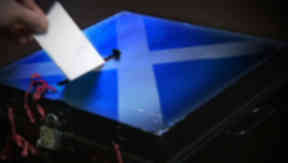 Chancellor George Osborne's intervention on currency appears to have paid off, as a new STV poll shows Scots more likely to vote No after his warning about the pound.
The Conservative politician warned an independent Scotland would not be able to share sterling during a speech in Edinburgh in February.
The UK Government's finance chief said: "If Scotland walks away from the UK, it walks away from the pound."
A poll commissioned by STV and conducted by Ipsos Mori suggests the stance, backed up by Labour shadow chancellor Ed Balls and Liberal Democrat Chief Secretary to the Treasury Danny Alexander, resonated with voters.
Amongst undecided voters, 34% are now more likely to vote No, 16% more likely to vote Yes and 44% said their position was unchanged. Six per cent did not know.
The headline results place Yes on 32%, No on 57% and undecideds on 11% amongst those certain to vote. When "don't know" voters are stripped out, support for Yes sits at 36% and No at 64%.
Mark Diffley, director at Ipsos MORI Scotland, said: "Our latest poll for STV shows that public attitudes have changed very little over the past three months and that the 'No' campaign appears to retain a healthy lead.
"The important recent debate over currency appears not to have shifted committed voters from their positions while undecided voters appear a little more inclined to vote 'No' as a result.
"Having said that overall support for a 'No' vote has not changed since December. We are now into the final 200 days before the referendum takes place and both sides will be stepping up their efforts to win over those who yet to decide how they vote.
"Time will tell whether this has significant impact on public attitudes."
There is good news for Yes Scotland, with the poll results indicating that undecided voters are more inclined to vote Yes.
Thirty-nine per cent of those yet to make up their mind are leaning towards a Yes vote, compared to 29% who are minded to vote No. A third could not decide.
The research also showed a growing gap in support for independence between those living in the most and least affluent areas of the country.
Respondents in the most deprived areas support independence by a margin of 47% to 41%, while those in the most affluent areas back the Union 71% to 20%.
The gender divide also persists. Men oppose independence by 54% to 38% while women oppose independence by a greater margin of 59% to 27%.
Voters aged between 25 and 34 are most likely to vote for independence, with this group backing Yes over No by 45% to 43%.
Those over 55 are least likely to support Scotland leaving the UK, with 63% voting No against 28% voting Yes.
Better Together leader Alistair Darling said: "This poll makes clear that Alex Salmond's failure to tell us what would replace the pound if we left the UK is costing the nationalists support.
"The idea that voters can be expected to go to the polls blind on the most fundamental issue affecting our economy is simply not credible. What the people of Scotland need to hear from Alex Salmond is his Plan B. Would we rush to adopt the euro or would we set up an unproven separate currency?"
Blair Jenkins, chief executive of Yes Scotland, said: "Looking at all the polls since last November, average support for Yes is currently up three points at 41% while No is down three points on 59% - the research clearly shows there is everything to play for.
"And by far the most telling result from this poll is that undecided voters are more inclined to move to Yes, with nearly four in 10 more attracted to us compared to fewer than three in 10 inclined to No. This confirms our own research, and what our thousands of volunteers are reporting, that when people learn about the gains of Yes the more likely they are to support an independent Scotland."
Ipsos MORI polled 1001 Scots over the age of 16 between February 20 and 25.
It is the third Ipsos MORI poll for STV. The first, in September 2013, placed Yes on 31% and No on 59%, with a further ten per cent of voters unsure.
A December survey found Yes at 34%, No at 57% and undecideds at ten per cent.
Note: Where results do not add up to 100%, this may be due to computer rounding.