Volunteers ready to help patients if assisted suicide becomes law
One volunteer told STV News she had been persuaded after working with grieving relatives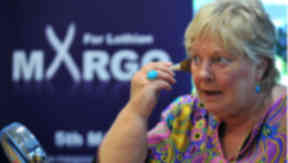 At least 25 people have volunteered to help people end their lives if assisted suicide is legalised in Scotland.
Independent MSP Margo MacDonald introduced a revised version of her Assisted Suicide (Scotland) Bill in the Scottish Parliament last November, after a previous Bill was defeated by MSPs.
The legislation would allow anyone whose life became intolerable through a progressive degenerative condition or terminal illness to seek medical help to end their lives.
Facilitators, who must not have any existing relationship to the patient, would be given the task of collecting the patient's final prescription and assisting with the process of ending their lives.
One of the volunteers, Maureen Hutchison, told STV News she had decided to take on the role after working with relatives of terminally ill patients as a humanist celebrant.
She said: "On a purely selfish level, it's not what I'd want for myself.
"We would be with the person on the day. We would provide for that person any assistance that they reasonably request.
"It would not mean acceding to a request like: 'Would you prise open my jaw and pour the drug into my mouth'.
"But it would mean: 'Could you perhaps prop me up a little more on this pillow and would you now pass me that cup?'"
But while the volunteers say they are extending compassion and control to people who are in unbearable pain, detractors argue treatment to prolong life is a better and more ethical option.
James Deighan, of Care not Killing, said: "I think people are troubled by it. We're troubled by the principle of it, I think, but troubled when you start to look at the mechanics of it.
"There would be people in our society and it's their job to end the lives of other people."
The Scottish Government has said it does not support a change in the law.