Judge: corroboration needed to check 'flawed police practices'
Lord McCluskey said Kenny MacAskill had 'not been successful' in making the case for abolishing corroboration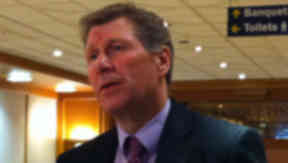 A retired high court judge has criticised the Scottish Government's plans to abolish corroboration as giving too much weight to "flawed police practices".
Lord McCluskey sent an 18-page letter to Holyrood's Justice Committee outlining his concerns about the proposed change in the law, which would remove the need to have two independent sources of evidence in court.
The former solicitor general and life peer also said Justice Secretary Kenny MacAskill had "not been successful" in making a persuasive case for scrapping the centuries-old rule.
He wrote: "It is not my intention to criticise the police. They have a difficult task and generally perform it well.
"However, it is clearly unwise to discard the slow, considered judgment of centuries of judges and others and instead place our faith in the competence and reliability of what we know from ongoing experience to be flawed police practices.
"All our history - like that of other countries - shows that, in the administration of justice, it is infinitely preferable to rely on an independent, skilled judiciary, conducting its work transparently and with reasoned judgments and appeal reviews, rather than to put our faith in the competence and reliability of police forces that are significantly less transparent and accountable and have been shown to put other considerations before the pure interests of justice.
"The Justice Secretary has not been successful in demonstrating that his judgment is to be preferred to that of generations of judges."
He told the committee in January that there were "serious errors" in evidence given to MSPs.
On February 27 Mr MacAskill relied on the SNP's majority to keep the proposal in the Criminal Justice (Scotland) Bill by just three votes.
He argued that failure to push ahead with the decision would be denying justice to victims.
The plan to remove the provision is welcomed by police, victims' groups and prosecutors, with some arguing its removal will make it easier to take cases of sexual assault and domestic abuse to court.
A Scottish Government spokesman said: "We believe the removal of corroboration is long overdue and we are not alone. Lord Carloway's review, police, prosecutors and victim support groups have all stressed that corroboration is a barrier to justice for victims in too many cases - cases which could be prosecuted under any other jurisdiction.
"The Justice Secretary has recently announced that Lord Bonomy, backed by a team of prestigious individuals from Scotland's criminal justice system and representatives on victims and human rights, is carrying out a robust exploration of any additional safeguards which may be required once the corroboration requirement is abolished.
"We are confident that their knowledge and experience will be invaluable and we look forward to receiving their recommendations."