STV to screen final of independence referendum schools debate
A year long nationwide competition comes to its climax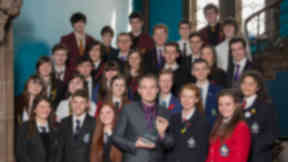 Eight secondary schools from across Scotland will battle it out on STV in the final of a nationwide debating competition based around the independence referendum.
The hour long programme, Referendum: The Next Generation, sees four pupils from each school take part in knock-out rounds before the winners of the final debate picks up the trophy.
The eight competing schools are the Nicolson Institute (Western Isles), Douglas Academy (East Dunbartonshire), Montrose Academy (Angus), Lockerbie Academy (Dumfries & Galloway), St Andrews Academy (Renfrewshire), Grove Academy (Dundee), The Mary Erskine School (Edinburgh) and St Joseph's Academy (East Ayrshire).
STV teamed up with Debating Matters in 2013 to give secondary school pupils from all 32 local authority areas, many of who will be eligible to vote in the referendum on independence, the opportunity to research and discuss issues which will affect the future of Scotland.
The Scotland wide competition was open to secondary five and six pupils who had a chance to compete with other schools in their local authority area last summer before taking part in eight regional heats in November 2013. The final of the competition was held at The University of Glasgow and the programme is hosted by STV's Gordon Chree. The trophy was designed by Glasgow-based glass artist Amanda Johnson.
Elizabeth Partyka, deputy director of channels at STV, said: "This programme is the culmination of a series of lively debates between secondary schools throughout the country. We are committed to providing a platform for debate on all the big issues and it is fantastic that secondary school pupils have the opportunity to research and discuss issues that matter to them. We hope people tune in to see which school picks up the winner's trophy."
Claire Fox, director of the Institute of Ideas which devised the Debating Matters format, said: "Debating Matters is delighted to have worked in partnership with STV to provide an intellectually demanding and rigorous platform for students across Scotland to engage in serious discussion of the big philosophical, cultural and political questions relating to Scotland's future direction, and to debate the key issues around the Scottish Independence referendum. The Institute of Ideas values substance over style and emphasises the complexities beyond the headline and beyond sound-bites, so important when young people are considering something as important as the future of Scotland constitutionally. Based on the debates we saw in the autumn and this spring, those young Scots we met rose to that challenge more than admirably."
The programme will be broadcast on STV on Saturday, April 12 at 1740 and will later be available on the STV Player.