Stanley Baxter says vote No amid 'anti-English Braveheart sentiment'
Veteran comedian known for Parliamo Glasgow and The Stanley Baxter Picture Show.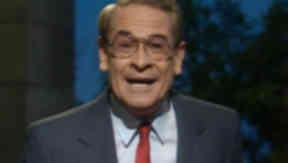 Veteran comedian Stanley Baxter has declared his opposition to Scottish independence.
The comic actor and impressionist, 88, best known for 1970s TV series The Stanley Baxter Picture Show, left his native Scotland in 1959.
He told Radio Times magazine that he believed his compatriots would vote no to independence, saying: "They're canny, the Scots."
The former child star added: "Scots can deny it as much as they like, but I've seen a lot of anti-English sentiment expressed north of the border but never anti-Scots sentiments south of the border.
"They don't know any better. It's got to do with these dreadful films they've made, anti-English films and that wretched Australian (Mel Gibson) ... Braveheart - it's not even correct historically."
The Mr Majeika actor, who launched his career as a child actor on BBC Scotland and has recorded a re-imagining of Robert Burns's poem Tam O' Shanter for Radio 4, added: "I'm very happy in London. South of the border's been very good to me.
"I could never have achieved that success north of the border if I'd stuck there. It wouldn't have happened."
A Better Together spokesperson said: "Stanley Baxter is a welcome addition to the list of personalities who are saying 'No Thanks' to separation. Or as he might have put it in Parliamo Glasgow 'Scoatlandisawrabetterfursayingnawta'."
A spokesperson for Yes Scotland said: "Some might say 'zatnoa nabsaloot scunner' or you might conclude 'whirraboorrit'?"
Meanwhile, TV historian Simon Schama, who has previously spoken out against the break-up of the Union, also reiterated his views in the magazine.
"If nation states are devolving into the Scots and the English, the Flemish and Walloons, that's an awful, surprising return to the most visceral, romantic ethnicity left over from the 19th century, and it's got to be a dangerous reaction against globalisation and the pulverisation of our distinctiveness, our identities," the broadcaster said.
He said the same forces behind calls for Scottish independence were "happening in dreadful places, causing ethnic and tribal wars, immense massacres".
The historian added: "The liberal chattering classes are so nervous, and shuffling around in coils of political correctness that they're badly equipped to cope with the monster of the revival of tribalism.
"They can deal, for instance, with a Fascist revival in Hungary, but find it hard to deal with it without self-consciousness when it happens in Africa."
He said Scottish independence was Britain's version of the drift towards the "horrible" break-up of the nation state around the world.
Schama, who recently enjoyed success with BBC2 documentary series The Story of The Jews, said Britain was becoming a more religious place.
"My generation grew up thinking that religion was completely marginal to British life, which, as for the rest of the world, has been proved more and more wrong. We were arrogantly isolated from that, thinking religion was just an ornamental part of Britishness," he said.
"Now look at the success of the Alpha Evangelicals, how important Christianity has been to the community of West Indians, the huge place of Islam. Britain is becoming a more religious place, not less.
"Other than the death of the planet, the problem most taxing for us right now is how people of competing or alternative or opposed beliefs can share a living space. Knowledge gives tolerance a decent chance. If you flip the question, you can certainly say ignorance is the handmaiden of intolerance, stereotype and perverted cliches about 'the other'."