Glasgow to lead Scottish celebrations on Nelson Mandela Day
Nelson Mandela International Day will be marked on July 18, the date of his birth.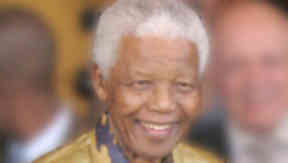 Glasgow is to lead Scotland's celebrations of the life and legacy of Nelson Mandela.
Nelson Mandela International Day will be marked on Friday, July 18, the date of his birth.
The commemorations, which are supported by the United Nations, will include a ribbon-tying ceremony and time for reflection outside St George's Tron Church on Nelson Mandela Place.
The event is being organised by Action for Southern Africa (ACTSA) Scotland and will kick off at 1.30pm.
Special guests who are expected to attend include the South African high commissioner, the country's minister for sport and culture, and athletes from Team South African who will be in Glasgow for the Commonwealth Games.
The Mzansi Choir from Soweto is also due to take part in the tribute to Mandela.
Brian Filling, chair of ACTSA Scotland and honorary consul for South Africa in Scotland, said: "In 2009 the United Nations designated July 18, Mandela's birth date, as Nelson Mandela International Day. It has become an annual event in Scotland and is now involving thousands of people and many organisations.
"Although Nelson Mandela has died his legacy as one of the world's greatest leaders will continue as will Scotland's connection with him and his struggle against racism, injustice and inequality for which he spent 27 years in prison."
The former South African president and international icon of freedom and political struggle died aged 95 in December.
He rose to global renown for his resistance to the former Apartheid regime in South Africa, which imprisoned him for 27 years.
In 1981, Glasgow became the first city to award Mandela a Freedom of the City accolade.
The city council lodged another protest against the racial supremacist government in Pretoria in 1986 when it renamed St George's Place, the location of the South African consulate, Nelson Mandela Place.
Apartheid formally came to an end with the 1994 South African elections, the first poll to be held under universal suffrage. The African National Congress emerged victorious and Mandela was elected president, a post he held until 1999.