Gordon Brown praises 'courageous' motor neurone disease campaigner
Better Together's Gordon Aikman launched a fightback plan after being diagnosed with the condition.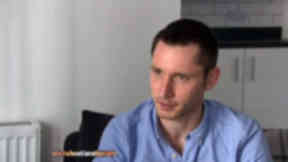 A campaign to double funding for motor neurone disease (MND) has been backed by former prime minister Gordon Brown.
Gordon Aikman, director of research at the pro-UK Better Together campaign, has launched a five-point fightback plan after being diagnosed with the condition, which could leave him in a wheelchair by Christmas.
Mr Brown hailed the Better Together research director as an "outstandingly courageous and dedicated young leader whose personal commitment to improved motor neurone research is inspiring the Scottish people to give millions to transform the possibilities for a cure".
The former prime minister added: "His appeal deserves all our support."
The campaigner said: "I'm 29 years old and I have just been given a death sentence.
"Scientists may be far from a cure, but they know people with MND do not live long: half die within 14 months of diagnosis."
As well as doubling funding for research into the disease, Mr Aikman is calling for benefits for those who are terminally ill to be fast-tracked and for care charges for these patients to be outlawed.
He is also demanding that the number of specialist MND nurses be doubled - there are currently only seven in Scotland - and that these posts be paid for by the public purse, rather than being funded from charity donations.
He has launched a website, gordonsfightback.com, to highlight his campaign.
Mr Aikman said: "I am calling on all MPs and MSPs to back my five-point fightback, because even though it'll be too late for me, we can and must find a cure for the next generation of MND patients.
"Researchers don't even know what causes MND, never mind how to cure it. But by doubling the amount of money the UK and Scottish governments spend on MND research, we can find a cure quicker and stop the needless loss of life.
"If we are to deliver truly lasting change for future generations of MND patients then we need our governments to act - and to act now.
"As motor neurone disease continues to claim the lives of hundreds of Scots each year, we cannot afford to waste time."
Since writing about his condition in the Scotland on Sunday last month, Mr Aikman has raised almost £40,000 for MND Scotland.
Craig Stockton, chief executive of MND Scotland, said: "What Gordon has achieved in raising funds and awareness of motor neurone disease in the last few weeks is incredible.
"MND Scotland supports Gordon's five-point fightback and hopes the public and politicians from across the political spectrum will too."
In his article for the Scotland on Sunday, Mr Aikman said there was "clearly much still to do" in the fight against the disease.
He stated: "Soon after I was diagnosed I received a visit from a specialist MND nurse who, after answering a barrage of questions, gave me an information pack.
"Inside was something that really frustrated me. It said that MND patients in parts of Scotland are being asked to pay for some of the most basic care they need: help with feeding, dressing or washing.
"That is despite clear guidance that anybody who is terminally ill is entitled to free personal care.
"Without thinking, I had fired an email off to a bunch of MSPs demanding an end to this deeply unfair practice.
"I was also shocked to find out that while the NHS directly funds the great work of more than 347 Macmillan Cancer nurses in Scotland, the country's seven specialist MND nurses are dependent for more than 80% of their funds on charitable donations to MND Scotland.
"But most importantly, we must invest far more to find a cure. We are a nation of innovators and lead the world with stem-cell research. It is too late for me but we have the chance to help the next generation."
Mr Aikman talked about his campaign in a recent interview with STV's political correspondent Claire Stewart for Scotland Tonight.
You can donate to Gordon's effort here: