Former Labour defence minister Peter Kilfoyle backs independence
Mr Kilfoyle, who served in Tony Blair's government, said at the moment there was a 'huge imbalance' in the UK.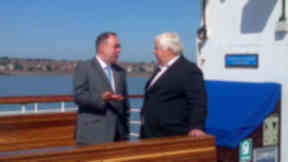 A former Labour defence minister has backed a Yes vote in the Scottish independence referendum.
Peter Kilfoyle, who served in Tony Blair's government, said at the moment there was a "huge imbalance" in the UK between the "favoured" areas of London and the South East and the rest of the country.
Mr Kilfoyle, who was MP for Liverpool Walton for almost 20 years, also claimed the "aspirational message" of the campaign for independence "was far more attractive than the negativity and scaremongering of the No lobby".
He spoke out after he met Alex Salmond in Liverpool, with the Scottish First Minister in the English city to speak at the International Festival for Business.
Mr Salmond hailed the "significant endorsement" of the independence campaign from "Labour stalwart" Mr Kilfoyle. The SNP leader said: "It shows that a Yes vote is in line with traditional Labour values."
Mr Kilfoyle stated: "Scotland's referendum debate is a timely reminder to the regions of England that we, too, have an issue with an overbearing London. There is a huge imbalance between a favoured London and its south-eastern hinterland, and the other regions and countries of these islands."
He added: "Of course, the immediate case of the Scottish ballot is a matter for Scots to decide. However, it strikes me that the aspirational message of the Yes campaign is far more attractive than the negativity and scaremongering of the No lobby. I trust Scots will recall the wise words of Franklin D Roosevelt - 'the only thing we have to fear is fear itself'.
"As a Labour Party member for 50 years, hoping to do my bit to improve the lot of working people throughout the British Isles, it seems to me that a Scottish vote for independence will make Scots masters of their own destiny rather than dependent on the fiat of a London-based establishment. A Yes vote could also be the lever for a new constitutional settlement for the regions of England."
Mr Salmond welcomed his intervention, which comes just two months before the vote on Scotland's future is held on September 18.
"Peter Kilfoyle is a Labour stalwart, and a much-respected figure," the First Minister said.
"This is a significant endorsement for the independence campaign - and it shows that a Yes vote is in line with traditional Labour values."
He added: "Peter understands that what is happening in Scotland is a catalyst for change elsewhere. We've now had a range of key Labour figures endorsing Yes. There is a real feeling of how important this is for all - not just in Scotland."
Bob Thomson, a former chairman of the Scottish Labour Party and a member of the Labour for Independence campaign group, also welcomed Mr Kilfoyle's announcement.
Mr Thomson said: "This is a significant development from yet another respected figure in the Labour movement. More and more people who believe in fairness and justice are stating their case in favour of independence for Scotland, and a new relationship of equality and friendship between our nations."
In his speech in Liverpool, Mr Salmond said independence could help boost Scotland's economy and would therefore "create an economic counterweight to London and the South East, changing the economic centre of gravity of these islands".
He added that it would also "provide a powerful example for those elsewhere in the UK, who are looking at how to change the current system, who want to see a model of growth which is fairer, more sustainable and more resilient than the one being pursued at Westminster".
Mr Salmond said regional political powers in the UK had "collapsed" in the last century, resulting in a widening gap between the poorest and richest parts of the UK.
In the UK he said this was now "wider than the gap in any other country in the European Union", adding: "Since 2007, London's economy has grown approximately twice as fast as the rest of the United Kingdom's. Nothing the UK Government is belatedly proposing even comes close to addressing the scale of this problem."
Mr Salmond said that, for the North of England and cities like Liverpool, "Scottish independence offers a catalyst to secure real political power, to allow determination of the future, not the long wait for belated scraps from the Westminster table".
The first national economic forum in an independent Scotland would "focus on rebalancing the economy, including co-operation with the North of England," the SNP leader said.
He added: "We are inviting representatives from local authorities and business organisations in the North of England to participate."
The First Minister insisted there would be "no border posts" between Scotland and England if there was a Yes vote in September's referendum.
He told the audience that the ties which exist between the two countries would continue and "flourish" if Scotland left the UK.
Independence would "transform Scotland for the better, enabling us to pursue a fairer and more sustainable model of economic growth", he said, arguing that this could in turn bring "wider benefits across these islands".
He told how devolution had already benefited Scotland, saying: "As a result, we've seen the situation where Scottish employment is higher and economic inactivity is lower than in the rest of the UK. And just yesterday we had confirmation that Scotland's economy has now passed its pre-recession peak, with growth of 1% in the first quarter of this year.
"That is an important point. Technically, we have been out of recession for some time - but you can't really declare a recession over until output has recovered beyond the previous level, and now it has."
But Mr Salmond also argued that there was "still a profound democratic deficit", stating that issues such as welfare, taxation and business regulation were decided by "UK governments which, more often than not, we didn't vote for".
Leaving the UK and becoming an independent state would allow the country to better tackle the challenges it faces, the First Minister said.
"Of course all nations face challenges - but, unlike most nations, Scotland lacks the means to address them by ourselves," he said.
"What we want to do is take co-ordinated national action - including investment in skills; a new Scottish Innovation Agency; a commitment to gender equality; improved access to finance; encouraging - not preventing - overseas students to stay in Scotland to work; and a partnership approach to industrial relations."
Scottish Labour rejected Mr Kilfoyle's comments.
Tom Greatrex, MP for Rutherglen and Hamilton West, said: "Sadly, Peter Kilfoyle seems to have confused devolution and decentralisation within the UK and separation from the UK.
"The Labour Party devolved power to Scotland when we set up the Scottish Parliament, when we wrote the 2012 Scotland Act and will continue to devolve power to the nations, regions and cities of the UK after we win the 2015 general election, decentralising within a pooling and sharing union to support communities throughout the UK.
"That is what many across England want to see, including Liverpool's city Mayor Joe Anderson. Peter Kilfoyle seems to want the same thing, without appreciating Alex Salmond's centralising of power since 2007 demonstrate that Nationalists are not interested in devolution."
Joe Anderson, Labour Mayor for Liverpool, said: "I, like many Scousers, feel a genuine connection with the warm-hearted people of Scotland. Liverpool as a city shares more with places like Glasgow than it does London and letting us create strong communities, jobs and opportunities for business will deliver more for the people of Scotland than Alex Salmond's plans.
"Alex Salmond is wrong to drive cities like ours apart and that's why I will be proud to stand with the No campaign as it visits Liverpool."