Johann Lamont wins Scottish Labour leadership contest
New leader pledges: 'Together we will change the Scottish Labour Party and win the chance to serve the people of Scotland again.'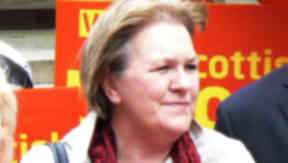 Johann Lamont has been elected as the new Scottish Labour leader and immediately warned her party of the "scale of the challenge" it faces if it is to be returned to power again.
Ms Lamont said it was a "huge privilege" for her to succeed Iain Gray — who quit in the wake of the Scottish National Party's landslide victory in May's Holyrood elections.
But she added: "If there is anything which dwarfs the scale of that privilege it is the scale of the challenge which faces us if we are to get the chance to serve Scotland again."
An opinion poll earlier this month put support for Labour in Scotland at just 26%, compared to 51% for the Scottish National Party.
Ms Lamont, who had been Mr Gray's deputy leader, said: "I want to change Scotland. But the only way we can change Scotland is by changing the Scottish Labour Party."
The former teacher is now the first leader of Scottish Labour, with her predecessors having only been head of the MSP group at Holyrood. An internal review of the party after May's election defeat means Ms Lamont will lead the whole of the party in Scotland.
She won two of the three sections in Labour's electoral college system, securing most support from elected parliamentarians and amongst members of unions and other affiliated bodies.
Rival candidate and fellow MSP Ken Macintosh won more than 50% of the votes from individual party members.
After the first round of counting Ms Lamont had 51.77% of the votes, putting her ahead of Mr Macintosh, with 40.28% and Glasgow South MP Tom Harris, who came in third with 7.95%.
That result meant there was no need to count second or third preferences.
Scotland's First Minister Alex Salmond, who will face weekly question time clashes with Ms Lamont at Holyrood, congratulated her on her success, saying: "I look forward to our discussions in Parliament."
But SNP MSP Christina McKelvie claimed she was the "second choice candidate among ordinary Labour Party members in this contest, only winning because of the bloc vote of unions and other organisations".
And she added: "That must leave a huge question mark hanging over her credentials even this early in her leadership."
The Nationalist continued: "The gap between the SNP and Labour has never been wider, and the scale of the task facing Ms Lamont is enormous."
Ms Lamont stressed her "task now is to make Labour Scotland's party again".
Addressing party supporters in Edinburgh immediately after her election, she stated: "If any one of us ever deluded ourselves into the thought that Scotland was a Labour country, last May must finally have shaken us out of that delusion."
But she insisted: "Together we will change the Scottish Labour Party, win the chance to serve the people of Scotland again and make Scotland all that we know it can be."
She also challenged Mr Salmond to hold his referendum on Scottish independence sooner than the Nationalists' timescale, which would see the vote held in the second half of Holyrood's five-year term.
Ms Lamont said: "The SNP have won the right to hold a referendum on Scotland leaving the United Kingdom. They should get on with it. Waiting is holding Scotland back."
She said she would play a key role in the campaign for a 'no' vote in that referendum, adding: "I'm the leader of the Scottish Labour Party. The Labour Party in Scotland is committed to standing strong inside the United Kingdom and to campaign for than, so that will be a central part of my job.
"I'm proud of Scotland standing strong in the United Kingdom — I don't believe that we are oppressed by the English and require to be liberated by Alex Salmond."
But when asked if she would share a platform with the Prime Minister as part of that, she said: "I think we want to make the best case for the United Kingdom. Do I think that David Cameron is putting across a good case for the United Kingdom now? No, I don't."
Ms Lamont insisted under her leadership nothing would be "off limits" for change.
"There will not be one policy, one rule, one way of working which cannot be changed," she said.
She also pledged to open up her shadow cabinet to "include in it people whose right to be there is their expertise and their ambition for Scotland" - a move which could see a leading figure from local government included.
Labour leader Ed Miliband congratulated her on becoming the "new and the first Scottish Labour leader".
He added: "It was right to create this powerful new position which carries with it the weight and authority of the whole party in Scotland. Scottish Labour needed to make this radical change to reflect the reality of the devolution that Labour delivered.
"Johann's mission is to win back the trust of Scots and challenge the SNP — a party that is cutting capital spending and public sector jobs faster even than George Osborne."
Glasgow Central MP Anas Sarwar was also elected as Scottish Labour deputy leader.
IN DETAIL: