Almost one million Scots cannot afford adequate housing conditions
More than 200,000 children live in damp housing, according to poverty study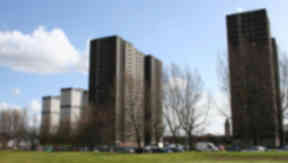 Almost one million Scots cannot afford adequate housing conditions and more than a quarter of a million are not properly fed, research has shown.
The largest study of poverty conducted in the UK found that the percentage of households falling below society's minimum standard of living has increased from 14% to 33% across the UK over the last 30 years.
Experts have criticised the UK Government's poverty strategy and have called on both Holyrood and Westminster to do more to tackle deprivation.
They found that in Scotland more than 400,000 adults go without essential clothing and more than 200,000 children live in damp housing.
Almost one in three people (30%) cannot afford to heat their homes properly in winter, with about 350,000 children living in cold homes during the winter months.
A quarter of adults have skimped on food so that others in the household can eat and 30,000 children live in families who cannot afford to feed them properly.
The study also found that almost one in four adults have incomes below what they consider is necessary to avoid poverty while 800,000 are too poor to take part in common social activities.
A third of adults (32%) in employment in Scotland are in "exclusionary work", meaning they remain in poverty, work in low-quality jobs or have had long periods of unemployment in the last five years.
The survey also shows levels of poverty in Scotland are slightly lower — 18% of children and adults were poor at the end of 2012 compared with 22% in the rest of the UK.
Similarly, 13% of adults in paid work are poor in Scotland, compared to 17% in the UK.
The Poverty and Social Exclusion in the United Kingdom (PSE) project compared people's living standards with the minimum standards the public believes everyone should have.
The findings of the study, which was funded by the Economic and Social Research Council (ESRC), will be discussed at a conference in Edinburgh on Wednesday.
Professor Nick Bailey, from the University of Glasgow, said: "The UK Government continues to ignore the deep problems in the Scottish and UK labour markets; they do not have adequate policies to address this growing problem. UK and Scottish governments both need to do more."
Professor David Gordon, from the Townsend Centre for International Poverty Research at the University of Bristol, said: "The UK's coalition Government aimed to eradicate poverty by tackling the causes of poverty.
"Their strategy has clearly failed. The available high-quality scientific evidence shows that poverty and deprivation have increased since 2010, the poor are suffering from deeper poverty and the gap between the rich and poor is widening."
Deputy First Minister Nicola Sturgeon said: "Scotland is one of the richest countries in the world and there is no reason for us to live in a society where there is such a difference in living standards between the richest and poorest.
"Our own figures suggest that one million people, including 220,000 children, are living in relative poverty after housing costs. The results of the PSE UK survey today only serves to reinforce the scale of the problem."
She added: "Worryingly the Trussell Trust has seen a 400% increase in people using food banks between April 2013 and March 2014 which includes more than 22,000 children using these services. Most organisations working on the front line recognise that this increase is due to Westminster's welfare cuts.
"Fuel poverty is another major concern, with thousands of households suffering. It is a scandal that there should be any fuel poverty in an energy-rich nation like Scotland. Since 2008, 600,000 Scottish homes have received energy efficiency measures to tackle fuel poverty.
"However, more is needed to mitigate UK Government cuts, especially as 70% of welfare cuts are only now beginning to come in."