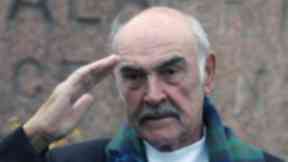 Sean Connery will serve as the head of an independent Scotland's intelligence agency, it has been confirmed.
The actor is best known for playing suave British spy James Bond in the film adaptations of Ian Fleming's novels. And for that borderline creepy film Entrapment where he improbably ends up with a 29-year-old Catherine Zeta-Jones.
The First Minister announced Sir Sean would become director-general of AyeSpy, a new security agency to be set up after a Yes vote. Mr Salmond said he would task AyeSpy with handling his top priorities: intelligence-gathering, counter-terrorism, and keeping Jim Sillars off TV.
The annoucement comes after the Scottish Government suffered a series of attacks on its intelligence and security proposals in the event of a Yes vote on September 18.
Better Together, the positive all-party campaign to scare the holy living s*** out of every last person in Scotland, has so far rolled out former Secret Intelligence Service chief Sir John Scarlett and ex Nato commander General Sir Richard Shirreff to warn of the dire consequences facing Scotland if it tried to just get along with other countries instead of bombing them at random intervals.
It is understood the No campaign is preparing to unveil another intelligence community heavy-hitter, Austin Powers, who will slam the Nationalists' plans as "Not groovy, baby".
Making the announcement at a press conference on Friday, Mr Salmond parachuted in from the roof of St Andrew's House wearing a tuxedo before walking across the stage and stopping to stare down a camera lens.
At this point he arranged his thumb and forefinger into a pistol and said "pow pow" before blowing imaginary gunsmoke from his fingernail. Top SNP strategist Kevin Pringle stood off-stage loudly humming this throughout:
Mr Salmond said: "We have heard much scaremongering from the Dr. No camp about the impact on intelligence of a Yes vote. I want to put that to rest today by announcing Sir Sean Connery as the first chief of AyeSpy. I couldn't think of anyone better suited to defend Scotland's interests than Sir Sean. He is the iconic James Bond actor, a keen SNP supporter, and is familiar with Scottish airline security from flying in here from the Bahamas every other year."
The Scottish Government has already set up an underground laboratory where scientists are devising a range of gadgets to be used by AyeSpy agents. These are believed to include a Dundee Cake that doubles as a shoulder-mounted rocket launcher and a Bu Chòir badge that detects Unionist subversives by guaging their reaction to Gaelic.
A Downing Street source said the Prime Minister had been left shaken but not stirred by the news.
Best of the web
Wings does another of his deep-dive pieces gathering together Unionist claims and picking them apart. A spokesman for fish who live in barrels has condemned the blogger.
The Shetland Times articulates a more coherent case for a No vote than most No politicians have been able to manage. Not a huge feat, I know.
Is the NHS in Scotland under threat of privatisation from Westminster? Channel 4's FactCheck blog runs the rule over the claims. Sadly minus pictures of hunky doctors. Or Krishnan Guru-Murthy.
This is a sarcastic, snarktastic delight
[Warning: Sweariness lies ahead.]
'And if the separatists win, every Scot will have awkward bacon roll eating experiences'
Sky News, we bow down before you
Yes campaign steps up its door-knocking operation
Indyref Daily is Stephen Daisley's sideways look at news, analysis, video and left-field goings-on in the independence referendum. Missives and missiles to stephen.daisley@stv.tv.