No Thanks: Scotland votes to stay in United Kingdom in referendum
Voters rejected independence by 55.3% to 44.7%, with turnout at an all-time high of nearly 85%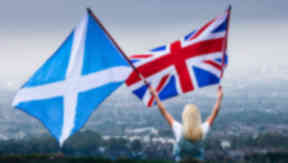 The people of Scotland have rejected independence in a referendum marked by history-making levels of voter turnout.
The country went to the polls on Thursday, September 18, to decide whether to be an independent country or remain part of the United Kingdom.
In the final weeks, polls suggested the balance of opinion was on a knife edge, and Yes even edged ahead in one survey.
But as the votes were counted across Scotland's 32 local authorities, it became clear the electorate had voted No to the question: "Should Scotland be an independent country?"
Turnout across the country was just short of 85%, far in excess of that usually seen at general elections. In East Renfrewshire, East Dunbartonshire, and Stirling, turnout broke through the 90% mark. But in urban areas, such as Dundee and Glasgow, voters were less engaged, with one in four Glaswegians abstaining.
Prime Minister David Cameron, speaking in Downing Street just after 7am, said he was "delighted" that Scots had "kept our country of four nations together".
Mr Salmond said the vote had been a "triumph for the democratic process" and called for "rapid" progress on the three main pro-Union parties' pledge to give Scotland further devolved powers.
The local authority areas which voted No were: Clackmannanshire, Orkney, Shetland, Eilean Siar, Renfrewshire, Inverclyde, Midlothian, East Lothian, West Lothian, Stirling, Falkirk, Angus, Aberdeen, Dumfries and Galloway, East Renfrewshire, East Dunbartonshire, South Lanarkshire, Scottish Borders, North Ayrshire, South Ayrshire, East Ayrshire, Aberdeenshire, Edinburgh, Argyll and Bute, Fife, Moray, Highland, and Perth and Kinross.
The local authority areas which voted Yes were: Dundee, West Dunbartonshire, North Lanarkshire, and Glasgow.
A total of 1,617,989 votes were cast for Yes, making up 44.7% of the total, while 2,001,926 people (55.3%) voted No.
The total number of votes cast was 3,623,344 - a final turnout of 84.5% of the electorate.
Prime Minister David Cameron said the outcome of the referendum was "clear" and said the SNP would now join talks on the future of Scotland within the UK.
"The people of Scotland have spoken and it is a clear result," he said. "They have kept our country of four nations together and like millions of other people I am delighted.
"As I said during the campaign it would have broken my heart to see our United Kingdom come to an end.
"And I know that sentiment was shared by people not just across our country but around the world because of what we have achieved together in the past and what we can do together in the future.
"So now it is time for our United Kingdom to come together and to move forward.
"A vital part of that will be a balanced settlement, fair to people in Scotland and importantly to everyone in England, Wales and Northern Ireland as well.
"A new and fair settlement for Scotland should be followed by a new and fair settlement for all UK nations."
Speaking at Dynamic Earth in Edinburgh, First Minister Alex Salmond said: "Thank you Scotland for 1.6 million votes for independence.
"I accept the verdict of the people and I call on the people of Scotland to follow suit and accept the democratic decision.
"The process by which we have made this decision reflects enormous credit on Scotland. This has been a triumph of the democratic process."
Mr Salmond added that he expected "rapid" movement on the UK Government's promise of more powers.
"I don't think that will ever be allowed to go back to business as usual in politics again," he said.
In a victory speech to pro-Union activists, Better Together leader Alistair Darling said: "Today is a momentous result for Scotland and also for the United Kingdom as a whole.
"By confirming our place within the United Kingdom, we have reaffirmed all that we have in common and the bonds that tie us together. Let them never be broken."
Mr Darling said all parties that had made "shared commitments to change" should now work to put those promises into action both north and south of the border.
And he told No campaigners - who had never matched Yes Scotland in terms of their visible presence on the streets and on social media: "You represent the majority of opinion and your voices have been heard. We've taken on the argument and we've won. The silent have spoken."
Scottish Labour Party leader Johann Lamont said the result was "decisive".
On whether it had been a happy night, she told BBC Radio 4's Today programme: "I'm not sure if the word is happy that I'd use, it's very emotional - it's a very emotional time.
"I've seen my country divided and I know there are people out there who are really hurting because they've lost, and we are pleased Scotland has decided it wants to stay in the United Kingdom and I feel it's an affirmation of a size we can move on from.
"When Nicola Sturgeon said on a personal level she was disappointed I can understand that because I know she fought a hard campaign... she also said this was a vote for change, I absolutely agree with that.
"We know there'll be a debate around powers and constitutional change but I yearn for the arguments around social justice and equality to get back into the stage in the Scottish Parliament and elsewhere, engage with people about what it was they wanted when they voted Yes and No, and I think we can come together round that."
A statement from Mary Pitcaithly, the chief counting officer for the referendum, said: "The chief counting officer is satisfied that all counts throughout Scotland were properly conducted and scrutinised by thousands of people representing both the Yes Scotland and the Better Together campaigns, as well as international election observers, media and police.
"None of these people raised any concerns during the verification, counting and adjudication stages."
Buckingham Palace is expected to issue a statement on behalf of the Queen later on Friday in response to the referendum.
Police in Glasgow are investigating ten alleged instances of electoral fraud in the city, believed to be people impersonating other voters.
A spokesman said: "Police Scotland takes the safety and security of the independence referendum extremely seriously and is working with partner agencies including local authorities to ensure the integrity of the ballot. Any crime committed will be investigated appropriately."
The force later confirmed that it was not currently investigating any other irregularities in the referendum count.