David Cameron pledges 'new, fair settlement' for all UK nations
The Prime Minister said he is 'delighted' that Scotland has rejected independence.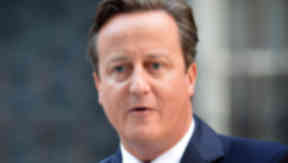 The Prime Minister has repeated his commitment to rebalance the constitutional set-up of the UK after Scots voted No to independence.
David Cameron said that a Yes vote "would have broken my heart" and congratulated the No campaign for showing that "our nations are better together".
Speaking outside No. 10, Mr Cameron said the vote was the "settled will" of the Scottish people and would be followed by a "new and fair settlement" for all four nations of the UK.
Lord Smith of Kelvin, chairman of energy giant SSE, will head up a devolution working group and further devolved powers for Scotland are due to be agreed by November, with draft legislation to follow in January.
The Prime Minister said: "The people of Scotland have spoken and it is a clear result.
"They have kept our country of four nations together and like millions of other people I am delighted.
"As I said during the campaign it would have broken my heart to see our United Kingdom come to an end.
"And I know that sentiment was shared by people not just across our country but around the world because of what we have achieved together in the past and what we can do together in the future.
"So now it is time for our United Kingdom to come together and to move forward.
"A vital part of that will be a balanced settlement, fair to people in Scotland and importantly to everyone in England, Wales and Northern Ireland as well."
"A new and fair settlement for Scotland should be followed by a new and fair settlement for all UK nations."
In a warning to nationalists not to seek to revive the independence debate after a vote which engaged more than 80% of the Scottish electorate, Mr Cameron said: "There can be no debates, no re-runs. We have heard the settled will of the Scottish people."
He added that the referendum "will be remembered as a demonstration of our ancient democracy. We should all be proud of that."
Before speaking, he tweeted: "I've just spoken to Alex Salmond, congratulating him on a hard-fought campaign. I'm delighted the SNP will join talks on further devolution."
The Prime Minister later announced he would fast-track proposals to prevent Scottish MPs voting on English-only issues in the wake of the referendum.
Labour leader Ed Miliband said he would "look at" any proposals brought forward by the Prime Minister.
"We certainly want to have greater devolution in England. We have already got proposals but we want to go further," he said.
"I think what is really important is that any change that takes place is led by people, not by politicians in Westminster, and grasps the scale of change that we need.
"That is the process that we want to embark upon."
He added: "We will look at any proposals the Prime Minister comes forward with ... I don't think people would tolerate proposals done behind closed doors in Westminster."