Scotsman pays out £6000 to Wings Over Scotland editor after article
Rev Stuart Campbell received out of court payment over an article published in the newspaper.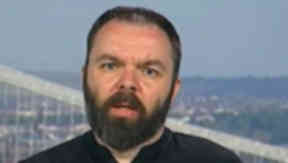 The Scotsman has paid out more than £6000 in damages to the editor of a pro-independence website over an article published in the newspaper.
Rev Stuart Campbell received the out of court settlement over an article published in the paper which made claims about the political blogger.
The article in question was published by The Scotsman on June 13 and claimed Mr Campbell used his Wings Over Scotland website to encourage Yes campaigners to picture and name and shame political opponents.
The Scotsman article also made a claim that Mr Campbell once made insulting comments in relation to the victims of the Hillsborough stadium disaster.
The article included an allegation that he blamed the 96 football fans who died at the stadium for the tragedy.
Mr Campbell denied this allegation and claimed he in fact said some other Liverpool fans were partly at fault but not the victims themselves.
The Scotsman published a correction and took the article down from its website the same day it was published.
Despite this Mr Campbell took the issue he had with the article further. A financial payment has now been made by The Scotsman after the two parties settled out of court.
Mr Campbell said: "The allegations made in the Scotsman piece were utterly disgusting and wholly untrue - a fact which could have been established by 30 seconds of the most elementary cub-reporter journalistic diligence.
"For the editor to then compound them with such a graceless, sour, grudging "correction" added insult to injury and made it imperative to seek legal redress.
"It's sad to see a once-respected "quality" newspaper reduced not only to such cheap smears but also to behaving like a sulking playground bully when caught."
Wings Over Scotland is a prominent political website that campaigns for Scottish independence.
A spokeswoman for Scotsman publishers Johnston Press said that as the matter had been resolved, they would not be commenting any further.