SNP minister Yousaf supports Keith Brown deputy leadership bid
External affairs minister Humza Yousaf endorsed the Clackmannanshire MSP in Glasgow.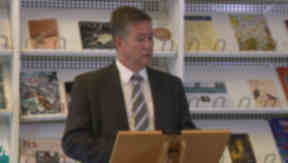 A Scottish Government minister has backed Keith Brown MSP's bid for deputy leader of the SNP.
External affairs minister Humza Yousaf pledged his support for the Clackmannanshire and Dunblane MSP, who launched his bid for the role on September 25.
Introducing Brown to Yes activists in Glasgow, Mr Yousaf called for the party to support "an outstanding Scottish Government Minister and excellent Parliamentarian".
He said: "Keith Brown is the ideal candidate for this deputy leader of the SNP.  He's got a fine record in Government and his organisational skills are second to none; he's shown he can take complex Ministerial departments and get results from them - Housing, Transport, Schools, Apprenticeships and Veterans' Affairs have all benefited from his work and the growing membership of the SNP can benefit as well. 
"He's trustworthy, charismatic and reliable; a great colleague to have and his experience and knowledge of Scottish politics mean that his advice is always worth taking.
"I'm urging party members everywhere to get behind Keith and support an outstanding Scottish Government Minister and excellent Parliamentarian by voting for him as our Depute Leader to make sure the party responds well to the exciting but challenging times we find ourselves in now.
"We had a good discussion about the opportunities on Sunday and about his ideas for taking the party forward; he's clearly put some thought into this and I was delighted to add a couple of my own, knowing that he'd listen."
Mr Brown's bid to become the next SNP deputy leader could be thwarted by Stewart Hosie, the SNP Treasury spokesman at Westminster, who has launched a rival bid for the post.
Transport and veterans minister Mr Brown said: "I'm delighted to have Humza's support.  We've worked well together in the Scottish Government and I know we both have the best interests of Scotland and the SNP at heart.
"We have challenges ahead, not least getting the best deal for Scotland out of the Smith Committee, and we have to engage the whole of the new membership of the SNP in that task, making sure that the existing membership and the new membership get every opportunity to contribute to the future direction. 
"I'll be laying out my vision for how to make that happen over the next couple of weeks - I'll be delighted to have the input of Humza and my other colleagues on that as we go forward.
"We've got a duty to make sure that we engage the whole of the SNP membership and the wider Yes movement in improving Scottish society and opening up opportunities for young Scots. 
"Some of that will be about making sure that SNP candidates win more seats than ever before but it has to be about more than that; it has to be about full engagement with Scotland and with Scotland's largest and fastest growing party.
"Party structures will have to change to give everyone the chance to make their contribution and make sure that we harness all the energy and imagination that we have at our disposal now."
On Thursday Nicola Sturgeon stood down as SNP deputy leader as she declared herself as a candidate to succeed Alex Salmond as both leader and first minister.
Her successor will be decided by a vote from party members.