STV poll: SNP at 52% as Labour face general election meltdown
The Ipsos Mori poll shows Labour would get 23% of the vote, leaving them with just four Scottish MPs.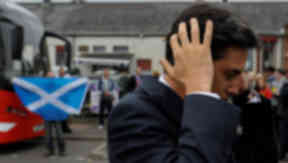 The Labour Party in Scotland would face political annihilation if there was a general election tomorrow, according to a poll commissioned by STV.
The Ipsos Mori survey shows Labour would poll 23% of the Scottish vote, leaving them with just four seats in Scotland.
In comparison, support for the SNP has surged to 52%, giving them a projected 54 seats at Westminster. The Liberal Democrats would have one and the Conservative party would be left without any Scottish MPs.
Another poll by YouGov for the Times, released later on Thursday, put Scottish Labour four points higher on 27%, a result they calculated would give the party ten seats.
The full breakdown of STV's Ipsos Mori poll is SNP 52%, Scottish Labour 23%, Scottish Conservatives 10%, Scottish Liberal Democrats 6%, Scottish Green Party 6%, Ukip 2% and 1% support for others.
The 1026 participants were surveyed between October 22 and 29 as the row broke over leadership of the Scottish Labour party. They were asked how they would vote if there was a general election tomorrow.
At the 2010 general election Labour received 42% of the Scottish vote and the SNP 19.9%.
The figures, which exclude those who do not know how they would vote, would dramatically reduce Labour's 40 Scottish MPs - jeopardising Ed Miliband's chances of becoming the next prime minister.
Those who would lose their seat include Jim Murphy, who is standing to be the next leader of Scottish Labour, Douglas Alexander and Margaret Curran, according to seat predictor electoralcalculus.co.uk. The site assumes uniform swings across constituencies.
The only Scottish Labour MPs who would survive would be Willie Bain in Glasgow North East, Tom Clarke in Coatbridge, Chryston and Bellshill, Gordon Brown in Kirkcaldy and Cowdenbeath and Ian Davidson in Glasgow South West.
The Liberal Democrats would lose all but one of their seats, with only Scottish secretary Alistair Carmichael surviving and high-profile victims including Danny Alexander and Charles Kennedy.
In comparison, the SNP would go from having six seats at Westminster to 54.
The poll also asked participants whether they are satisfied by the job being done by the leaders of political parties.
Just a quarter of Scots are happy with Prime Minister David Cameron's performance but 65% think both the First Minister Alex Salmond and Nicola Sturgeon, who is replacing him next month, are doing a good job.
UK Labour leader Ed Miliband scored just 18%, with Nick Clegg doing slightly better at 19%.
Scottish party leaders fared better with 35% happy with Conservative leader Ruth Davidson, 22% with Liberal Democrat leader Willie Rennie and 45% with Patrick Harvie.
The new political map of Scotland?
SNP deputy leader Nicola Sturgeon, who will shortly be named First Minister, said: "Support of 52% for the SNP at Westminster is further proof that the referendum has changed Scottish politics forever. More and more people are choosing to put their trust in the SNP as disillusion with the entire Westminster establishment grows.
"London Labour's treatment of their party in Scotland as nothing more than a 'branch office' has left them in meltdown. As a result, people across the country realise that Ed Miliband doesn't speak for them and Labour support is in free-fall."
In an interview with ITV News, Labour leader Ed Miliband accepted that unless Labour could turn the polls around in Scotland he won't be Prime Minister.
He said: "This poll is a snapshot not a prediction and let's see where we are at the general election. I'm determined and believe we can win people back to our cause in Scotland.
"We're going to show the people of Scotland how we're going to change Scotland, how we're going to change the United Kingdom. Yes, it's a big task but I know we can meet it."
STV political editor Bernard Ponsonby said: "This is the most dramatic poll findings ever to be published in Scotland and underlines the scale of the challenge for Labour leaders both north and south of the border.
"There are only two polls in recent memory which have generated as much surprise, the most recent during the independence referendum showing the Yes camp ahead, and before that you'd probably have to go back to 1992 and a poll for ITN which showed support for independence at 50% for the first time.
"Now it is a poll, not an election result, but what it does is to underline the scale of the challenge facing the new leader of Scottish Labour and the figures come as Ed Miliband arrives in Scotland to address a gala dinner in Glasgow.
"On these figures he has little chance of winning a UK election with his Scottish power base facing meltdown."
The findings also gave Labour leader Ed Miliband a negative satisfaction rating of 56%.
Reacting to the Ipsos Mori poll, Scottish Labour leadership contender Jim Murphy said: "I sense that a lot of the fieldwork in this poll is being taken at a horrible moment for the Scottish Labour Party which is reflecting itself in this poll.
"I'm confident we can get this back. Of course it shows how much work we have to do but I think one of the things it does tell us is the period of self harm in the Scottish Labour Party has got to come to an end.
"The idea that you see your opponents inside your own party, worse still you see your enemies inside your own party, that's an old style of politics that the voters hate."
The YouGov poll for the Times newspaper put the SNP on 43%, a result which was calculated to give them 47 seats.
The Conservatives and Liberal Democrats would both have a single seat in Scotland, according to the YouGov poll.
Johann Lamont resigned on Friday with an attack on UK Labour colleagues, who she accused of treating Scotland as a "branch office".
One of the candidates standing to take over from her, Jim Murphy, launched his campaign on Thursday by pledging to end the streak of "losing Labour" in Scotland.
Mark Diffley, director of Ipsos Mori Scotland said: "The poll gives a further boost to the SNP ahead of their upcoming conference and the formal announcement of Nicola Sturgeon becoming the new First Minister.
"At the same time it will be particularly unwelcome news for the Labour party after a bruising period since the referendum, culminating in Johann Lamont's resignation last week.
"They will hope that this represents a trough in public support and that their upcoming leadership contest will allow them to begin to regain some of the support they have lost."
On Thursday evening, around 200 pro-independence campaigners staged a demonstration outside the hotel where Scottish Labour's gala dinner was taking place.
The protest aimed to highlight the plight of the most vulnerable in society and featured a food bank collection.
There was a strong police presence outside the Grand Central Hotel in Glasgow as Labour figures arrived for the dinner.
Download: The STV News app is Scotland's favourite and is available for iPhone from the App store and for Android from Google Play. Download it today and continue to enjoy STV News wherever you are.
Join in: For debate, chat, comment and more, join our communities on the STV News Facebook page or follow @STVNews on Twitter.
Updates: Would you like STV's latest news update in your inbox every morning? Choose from our range of regular e-newsletters here