STV poll: Two thirds of Scots support second referendum within ten years
Participants said they would support another vote taking place in the next decade regardless of circumstances.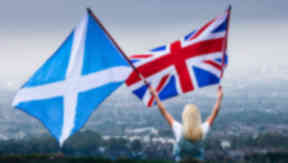 Two thirds of Scots would support another independence referendum within the next ten years, according to a STV News poll.
Of those asked by Ipsos Mori, 66% said they would support the vote taking place in the next decade regardless of circumstances.
Just 31% would oppose a referendum in the next ten years.
The independence referendum was held on September 18, with No winning by 55% to 45% for Yes.
Since then Nicola Sturgeon, who replaces Alex Salmond as First Minister next month, has refused to rule out holding another vote.
STV News' poll asked 1026 people whether they would support or oppose another referendum under a series of circumstances.
It shows 58% of participants would support a vote in the next five years, regardless of the circumstances, with 39% against this.
If a majority Conservative government were elected in next year's general election, 54% would support another referendum.
A majority Conservative government with no Scottish Tory MPs, as predicted by STV's poll on Thursday, would see support rise to 55%.
If a referendum is held on EU membership in 2017 and the UK elects to leave, 55% of Scots would support an independence referendum.
The SNP said the results of the poll show Scots think promises made by pro-Union parties before the referendum are being broken.
Stewart Maxwell MSP said: "What we're seeing now is something which is really not that surprising, that the Scottish people are beginning the suspect that London Labour and indeed the Conservative party are beginning to backtrack on the promises that they offered before the referendum.
"Clearly people are beginning to think twice about whether or not a second referendum is possible.
"We of course accept the result of the referendum and there's no prospect of a referendum in the short term, it's a number of years away at least. But clearly if the people of Scotland demand a referendum then of course they should have one."
But pro-Union parties feel the independence question has been settled for now.
Labour MSP Jackie Baillie said: "Having gone through one just recently I do think it's a once in a generation thing. The people of Scotland spoke quite convincingly, 55% to 45%, saying they wanted to remain in the UK.
"That's a result I respect and I don't think we will be having a referendum any time soon."
Mark Diffley, research director at Ipsos MORI said he was "not particularly surprised" by the findings.
He said: "As 45% of people voted Yes, you would imagine all of them would want another referendum.
"In terms of No voters, they could want another referendum for a variety of reasons, they are maybe somewhat disappointed with what has happened since in terms of extra powers and there may be people who were tempted to vote Yes but didn't go through with it who would like the opportunity to have the debate again."
Mr Diffley said while political parties "need to be aware of what people are saying", he added that the fact that the poll had been done just weeks after the referendum meant people could still be thinking about such issues.
He stated: "People are still in referendum mode, thinking about it, talking about it, and in some cases extremely disappointed by its outcome and what has happened since in terms of additional devolved powers.
"This is a snapshot of opinion at a time when politics and the referendum are very high profile. What the feeling is in another year is another matter."
On Thursday, STV released figures for Scots voting intentions in a general election from the same poll.
It showed Labour would poll 23% of the Scottish vote, leaving them with just four seats in Scotland.
In comparison, support for the SNP has surged to 52%, giving them a projected 54 seats at Westminster. The Liberal Democrats would have one and the Conservative party would be left without any Scottish MPs.
The full breakdown of STV's Ipsos Mori poll is SNP 52%, Scottish Labour 23%, Scottish Conservatives 10%, Scottish Liberal Democrats 6%, Scottish Green Party 6%, Ukip 2% and 1% support for others.
The 1026 participants were surveyed between October 22 and 29.
Download: The STV News app is Scotland's favourite and is available for iPhone from the App store and for Android from Google Play. Download it today and continue to enjoy STV News wherever you are.
Join in: For debate, chat, comment and more, join our communities on the STV News Facebook page or follow @STVNews on Twitter.
Updates: Would you like STV's latest news update in your inbox every morning? Choose from our range of regular e-newsletters here