Labour's Sarah Boyack calls for radical change as leader bid launched
Ms Boyack was setting out her bid to become Labour leader in Scotland at an event in Edinburgh.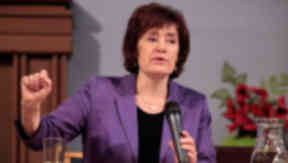 Labour MSP Sarah Boyack has launched her bid for the party's leadership with calls for "bold and radical" new approaches.
Ms Boyack said the party must be honest in the debate about local government funding, which she said has been under pressure from SNP centralisation and the "under-funded" council tax freeze.
There is also a "growing funding crisis" in the NHS, and a rethink of care services is needed, she said.
Ms Boyack was setting out her bid to become Labour leader in Scotland at an event in Edinburgh.
She is competing against MP Jim Murphy and MSP Neil Findlay to replace Johann Lamont, who resigned from the role and accused Labour in Westminster of treating the party in Scotland like a branch office.
Ms Boyack, who served briefly as a minster in the first Scottish Parliament, has also pledged to be a "unifying leader", and make the party "fit for purpose".
She dubbed herself the "listening leader", outlining plans to publish 100 new ideas aimed at improving people's lives, after meeting with people and hearing their suggestions throughout her campaign.
Ms Boyack told the audience that if elected leader and then First Minister, she wanted to see a properly funded health service, affordable childcare and quality schools, the mending of local government funding and "double devolution", with new powers and resources passed from central government to councils.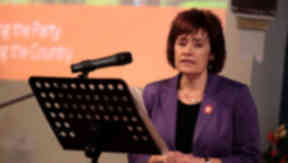 The cost of living crisis facing families, fuel poverty, housing and climate change must also be addressed, she said.
On local government finance, she said: "The debate about local government funding is a debate where we must be honest. Vital services cannot possibly be adequately provided at the quality needed if cash available to councils keeps going down in real terms.
"But making the council tax fairer won't be enough - we need to be more radical."
On the NHS, she said: "We have a growing funding crisis in the health service. The SNP deny there's a problem until it's a crisis.
"And the care crisis isn't a future problem - it's a problem now. The SNP have known about the increasing number of older people needing support for years, but the services needed are simply not in place."
She added: "I said last week it's time for a proper debate - but not just within my party - we need a proper debate in our country too.
"Let's be radical, let's be bold, let's think to the future, let's take Scotland forward."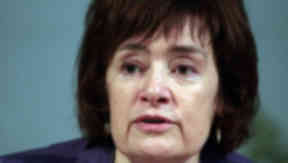 Ms Boyack refused to be drawn on whether she proposed raising taxes in Scotland to pay for such "radical" new policies, stating that the issue was "not just an issue about raising taxes... but about new opportunities as well".
She is due to take part in a number of hustings events with Mr Murphy and Mr Findlay, with the contest to be decided by a vote involving Labour parliamentarians in Scotland, members of the party north of the border and affiliated trade unions and societies.
The new leader will be announced on December 13.