Jim Murphy elected new leader of Scottish Labour in party vote
Former secretary of state for Scotland to replace Johann Lamont at head of party.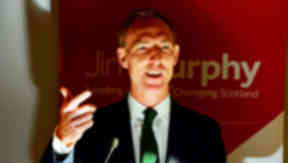 East Renfrewshire MP Jim Murphy has been elected leader of the Scottish Labour Party.
Mr Murphy was chosen to replace Johann Lamont, who stood down in October after less than three years in the job.
Speaking after the announcement of his victory at the Emirates Arena in Glasgow, Mr Murphy said: "This is a fresh start for Scottish Labour. A new generation is in charge but it's only the beginning. The first change, the first of many to come; Scotland is changing and so too is Scottish Labour. We have an ambitious programme for leading our party because we are ambitious for Scotland.
"Now Scottish Labour is coming together to work on the big issues that unite us. We are at our best when we are united. What's true of our party is true of our nation too. This year we decided not to divide up the UK, now we have to unite Scotland.
"Because, if we are honest, Scotland is one country but two nations. Divided not by how we voted in the referendum, but by circumstances. One, the majority: Fulfilled, doing well, getting by or getting on. The other, a minority: Falling behind, denied opportunity, struggling to escape the hardship of their upbringing.
"This inequality is wrong and Scottish Labour's mission is to end it. It makes me angry that kids from poor backgrounds are three times less likely to get good grades than those from prosperous backgrounds. It's wrong that just 220 kids from poorer families – 220 in the whole of Scotland – leave school with the qualifications good enough to get into our best universities. It's unacceptable that the poorest people live nine years less than the richest and are three times more likely to take their own lives."
He thanked his rivals and said the conduct of the contest had been "a credit to Scottish Labour". In an obvious jibe at Nicola Sturgeon, he added: "We have shown others why it is far healthier to have a contested leadership election than a coronation."
The former secretary of state for Scotland saw off challenges from left-wing MSP Neil Findlay and veteran Scottish Executive minister Sarah Boyack, both list members for the Lothian region.
However, Mr Findlay performed more strongly than originally expected, polling 34.9% of the votes votes to Mr Murphy's 55.7%. Ms Boyack took 9.2% of the votes.
Scottish Labour also elected its new deputy leader on Saturday, with Lothian MSP Kezia Dugdale emerging victorious over North Ayrshire and Arran MP Katy Clark. Ms Dugdale secured 62.8% of the vote to Ms Clark's 37.1%.
The incoming deputy leader will replace former second in command and acting leader Anas Sarwar, who has also announced his resignation. Ms Dugdale is expected to lead Labour in the Scottish Parliament, speaking for the party during First Minister's Questions until Mr Murphy wins a Holyrood seat.
Surge
Mr Murphy used his first speech as leader to underscore Labour's commitment to social justice but also to signal that there would be no leftwards lurch, with a strong economy remaining the party's top priority.
He told assembled party members and activists: "I'm proud of Scotland's potential but we should all be restless that too few Scots share in it. It's Scottish Labour's mission to build a fairer nation. At our best, Scottish Labour's mission and values – to tackle inequality.
"That starts with the economy: Backing business, creating jobs. Because if redistribution is our aim – and it is – then we need more wealth not less; more entrepreneurs, not fewer. A growing middle class that more families are joining. The debate about how we spend money has to start with how we earn it. I want to unite those living in our old cities, new towns and our island and rural communities."
He appealed to those Scots who voted for independence in the September 18 referendum, including those who have been lifelong Labour voters, to set aside constitutional differences and work with him on the social justice agenda.
He said: "I want to talk to the Scots who voted Yes. Labour voters, supporters of all parties and none. Know this: I share far more with many of you who voted yes than I do with some of the political leaders who campaigned for No. Together we have a common aim – a better, fairer Scotland. We disagreed on one vote but we have so many common values, we are united by so much.
"A Yes or No vote doesn't divide us now; they can unite us. Unite us, when we say Yes to social justice and when we say No to inequality. That is my over-riding reason for being in politics, for being Leader of the Scottish Labour Party. We want a country that protects our environment and promotes the life chances of every child in Scotland to have the opportunities to fulfil their potential and develop their talents.
"That is the aim that has driven me. It is at the heart of Labour values past, present and future. It must be at the heart of all our policies. This is the challenge; this is the mission. Labour did it before: The National Health Service, slum clearance, new towns, modern jobs. But my aim isn't to live in our past, it is to inspire the future.
"Let's remember what we can achieve when our anger becomes an energy, when our energy turns into a patriotic confidence. That's when nothing can stop Scotland. We have done so much together in the past, so our duty is now to do just as much again."
Turning to policy, Mr Murphy touted the Smith Commission as "the biggest transfer of power" of the devolution era.
He insisted: "There can be no excuses now. We have the power, do we have the purpose? Powers in themselves are trophies to be squabbled over unless they are used to meet these objectives. We will use the powers coming our way for fairness, opportunity and an end to poverty.
"As I said, I will work with anyone who claims to share our values to get the best for Scotland. I will build a team of all our talents and involve those from beyond our party. People's needs are too urgent to wait and too important to be caught in the cross-fire of constant political point-scoring. Where there is common ground, let's build on it.
"But I will not hesitate to hold the Scottish or UK governments to account when they don't do the right thing. That is why I believe that it is right that half a million Scots benefit from a living wage. We need to gain power in Edinburgh so that we can give it away to the rest of Scotland. And why, unlike the SNP, I would introduce a top rate of tax of 50p on those who can pay a little more because social justice doesn't come on the cheap."
In closing his remarks, he offered a positive vision of Scotland that contrasted with what was perceived as the excessive negativity of Labour as part of the Better Together campaign.
He said: "Scottish Labour is changing. We are earning the right to be heard, the right to be trusted; earn the chance to serve again. I get it. I was born here, I live here, and I will lead here. I will always put Scotland first. Scotland first for its remarkable history. Scotland first for our fierce pride. Scotland first for our limitless potential.
"We are truly blessed. Nothing is beyond us if we work together, if we tear down the barriers that hold too many Scots back. The prize is a fairer Scotland. I would like to invite all Scots regardless of politics or referendum to work together in this great land, with a sense of pride, and build the fairest country on earth."
The new leader was selected by an electorate comprising Labour MPs, MSPs and MEPs; party members; and trade unionists. Mr Murphy secured the most support from elected members while Mr Findlay was backed by the trade unions.
Mr Murphy comes from the centrist New Labour faction of the party and his victory will be seen as an indication that members are eager for a leader who can take the fight to the SNP and the new First Minister Nicola Sturgeon.
The Nationalists have emerged from their defeat in the independence referendum with a quadrupling of their membership and a surge in public support. Recent opinion polls have forecast the SNP will all but wipe out Labour's 40 Scottish MPs at the May 2015 general election.
Mr Murphy's moderate Labour politics are considered appealing to swing voters but his campaign was studded with leftwards tilts, such as his pledge to reinstate the 50% upper rate on income tax for those earning in excess of £150,000.
The former Scottish secretary and Europe minister has been an MP since 1997, when he unexpectedly won the safest Conservative seat in Scotland, Eastwood. He held the seat and its successor East Renfrewshire with an increased majority.
He came to prominence during the independence referendum for his 100 Towns in 100 Days tour of Scotland in the final months of the campaign. The events saw Mr Murphy stand on an Irn-Bru crate in town high streets and make the case for Scotland to remain part of the United Kingdom.
His speeches attracted media attention after several were disrupted by angry nationalists. One Yes supporter was convicted of assault after he hit the MP with an egg during a rally in Kirkcaldy.
Mr Findlay based his leadership bid on a more robust programme of socialism that included proposals to expand the living wage, build 50,000 council and social houses, and commission a public inquiry into trade union blacklisting.
Ms Boyack, who served as minister for transport and for the environment in the former Scottish Executive, appealed to Labour members with an energy infrastructure policy that she said would create jobs and help to cut fuel bills.
Vision
Ed Miliband MP, leader of the Labour Party, said: "Congratulations to Jim Murphy on becoming leader of the Scottish Labour Party and Kezia Dugdale on becoming deputy leader of the Scottish Labour Party. I look forward to working with both Jim and Kezia to secure a Labour government in Westminster next year and Holyrood the year after.
"I also pay tribute to Neil Findlay, Sarah Boyack and Katy Clark - they fought strong campaigns and will be key campaigners for Scottish Labour in the run up to the general election and Scottish parliamentary elections.
"Jim showed in the referendum campaign that he is a fighter. He showed in the leadership campaign that he is a leader. I am going to be standing shoulder to shoulder with Jim in the campaign to get David Cameron out at the general election.
"Jim has already shown how he will use increased powers for the Scottish Parliament for a new 50p top income tax rate for people earning more than £150,000. Together we will show how a Labour government can change the lives of working people in Scotland. The fight to get the Tories out is now on. It is a fight we intend to win."
SNP First Minister Nicola Sturgeon used the opportunity of Mr Murphy and Ms Dugdale's election to say her "door is always open" to opponents who want to work with her on cross-party issues.
Ms Sturgeon said: "I congratulate Jim Murphy and Kezia Dugdale on their election as leader and deputy leader of Labour in Scotland. I know that the challenges of leadership are never easy, so I offer my best wishes for the job they have ahead.
"While we will undoubtedly cross swords often in the months ahead, my door is always open to those who wish to find common ground and work together in the best interests of people in Scotland – something I hope we will have the opportunity to do."
Scottish Conservative leader Ruth Davidson congratulated Mr Murphy but immediately attacked his party's UK leader Ed Miliband.
Ms Davidson said: "I congratulate Jim Murphy on his victory. He ran a vigorous campaign for the Labour leadership and I expect a similar level of activity as he tries to distract people in Scotland from the fact his first task is to put Ed Miliband into Downing Street.
"I know Jim doesn't shirk from a challenge, but given Mr Miliband is Labour's biggest electoral liability since devolution, he's going to have his hands full.
"The Scottish Conservatives are focused on the interests of hard working Scots who want to see the UK government continue to secure the economic recovery, cut the deficit and make work pay.
"Jim Murphy's job is to try and put a tartan gloss on Ed Miliband's fading challenge. He did a job of work in the referendum campaign, but it will take more than a 100-town tour to persuade people in Scotland to put Ed Miliband in Downing Street."
Community, one of the few unions to back Mr Murphy instead of Mr Findlay, welcomed his victory.
Assistant general secretary John Park said: "Today the Scottish Labour Party has taken a big step forward. Party members have made it very clear that they believe in Jim Murphy's vision for our party.
"We were clear throughout the campaign that Jim and Kezia were by far the best choice for trade unionists and all of Scotland's working people. They have a difficult task ahead and it is vital that now the election is over, the whole party unites around our new leaders.
"The trade unions have a vital role to play to helping elect a Scottish Labour government and Community will be doing everything we can to make Jim Murphy the next First Minister of Scotland."
However, the more left-wing Unite union struck a cautious tone in response to the news.
Secretary Pat Rafferty said: "Neil Findlay offered a genuine alternative to the politics and policies that led to consecutive electoral defeats for Scottish Labour and the haemorrhaging thousands of members. Unite was proud to support Neil and his share of the vote is enough to show his popular policies have resonance among working people in Scotland.
"Arguably, Jim Murphy recognised this appetite for real change during the hustings, because as the campaign progressed his arguments became bolder on issues like taxation and a living wage. Jim now needs to turn words into action if he wants to start the process of re-building Scottish Labour."