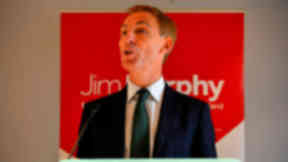 Scottish Labour is a party that could shoot itself in both feet with an empty gun.
For half a century it was the natural party of government in Scotland but within just two terms of the Scottish Parliament, it managed to lose power to the SNP. It responded to the Nationalist advance by electing a succession of decent but ineffectual Holyrood leaders who were dominated by the Westminster party machine. Once the architect of devolution, Labour allowed the SNP - a late semi-convert to the idea - to take on that mantle.
For the past decade, the shortest distance in Scotland has been between the Labour Party and a gaffe. MPs have been arrogant and contemptuous of devolution, MSPs mediocre and anonymous, and the party has given the impression that it was undergoing a slow, undiagnosed collective nervous breakdown.
So there is something refreshing about the election of Jim Murphy as the new leader of the party. In choosing him (over two admittedly good and thoughtful rival candidates), Scottish Labour has decided not to go gently into that good night. It could very well be - could, mind you - that Labour has grown tired of losing elections and might even try contesting the next one.
Labour has a fight on its hands - a struggle for nothing less than its survival as a major force in Scottish politics - and it has chosen a prize fighter. You may judge a friend by who likes them but always judge a politician by the people who scream the loudest at them. In Murphy's case, that is the Nationalists and the left of his party.
During the leadership election he was branded "the candidate of the past" and "the candidate of division". And that was by his own side.
Len McCluskey, general secretary of the Unite union, also warned darkly that a Murphy victory "would be all the SNP's Christmases come at once" and "a sentence of political death" going into the general election.
Murphy's first act as leader should be to draw up a list of policies McCluskey would like him to pursue. He should then take a red pen and write at the top of the page: 'In the event of Hell freezing over'.
That doesn't mean that he should spurn the left but nor should he be prisoner to them. If the success of the SNP has taught us anything it's that elections in Scotland are won and lost on the centre ground. The task for Murphy is to (re)build a winning coalition of aspirational C2s and middle class public sector workers - or, in terms familiar to him, Barrhead and Newton Mearns.
Some of these people will have voted Yes in the independence referendum and Murphy has to convince at least some of them if he is to have any chance of leading Labour back into government at Holyrood.
It won't win over the diehards but it's not intended to. Murphy will be courting those 'soft Yes' voters, as his speech on Saturday made clear:
"I share far more with many of you who voted yes than I do with some of the political leaders who campaigned for No. Together we have a common aim - a better, fairer Scotland. We disagreed on one vote but we have so many common values, we are united by so much. A Yes or No vote doesn't divide us now; they can unite us. Unite us, when we say Yes to social justice and when we say No to inequality."
To this mix he must add this demographic: Women. The gender gap probably had more to do with Better Together's referendum victory than Gordon Brown, the Vow, or reactionary geriatrics. And while we are now legally obliged under the Feminism (Semantics and Other Diversions from Substantively Improving Women's Lives) Act to concede that no such demographic exists, that all women are different, that some may not even choose to identify using such a heteronormative taxonomy, that women care just as much about defence and the economy as men do, and why-does-Tesco-sell-dolls-in-pink-boxes-and-toy-cars-in-blue-ones-hashtag-everyday-sexism, there are votes to be found in structuring a policy platform around issues of particular importance to women: childcare, education, health, and social care.
It might seem counterintuitive to suggest that Murphy can extend a gender gap over the country's first female First Minister but he has an advantage that Nicola Sturgeon does not and that is a party with nothing left to lose. Murphy can afford to be modestly radical and explore policies that, while popular with the electorate, Ms Sturgeon could not countenance and her party would not allow her to even if she could.
Why not wrest control of schools from local authorities and put headteachers in charge? Why not give parents a vote in recruiting those headteachers? Why not allow free schools and charter schools and offer parents real choice in where they want to send their children? Are vouchers and education savings accounts a step too far? Genuine performance-related pay for teachers a fight not worth picking? Maybe, maybe not. Let's find out.
Who says increasing the use of private contractors in the NHS is political poison if it can be shown to cut waiting times, boost results, and hews to the free-at-the-point-of-delivery principle? Is there scope for a voucher system in social care, one that allows patients or their families to choose an at-home care provider rather than being dumped in scarce hospital beds until local authorities agree to fund their care?
All too often the Nationalists' idea of social democracy is a highly-centralised, the-state-knows-best approach more concerned about means than ends. Murphy should be bold enough to offer a radically different tack in which dogma about provision and procurement is not allow to get in the way of delivering the equality of opportunity that all good social democrats believe in.
That is, after all, the purpose of the Labour Party. Labour does not exist to represent a theory or an ideology; its mission is to represent people. The people who work and those who want to but have fallen on hard times. Those who yearn to get ahead and are prepared to put in the effort but could do with a helping hand. In his famous "thousand generations" speech, Neil Kinnock asked why he was the first member of his family ever to go to university.
"Was it because all our predecessors were thick? Did they lack talent, those people who could sing and play and write and recite poetry? Those people who could make wonderful beautiful things with their hands? Those people who could dream dreams, see visions. Why didn't they get it?"
No, the problem wasn't personal, it was political. "It was because there was no platform upon which they could stand." That platform was the Labour Party and it is up to Murphy to show that it remains so.
Murphy is a polished communicator and a skilled political strategist. It's been a long time since the SNP was up against someone of his calibre and they can expect some trouble from this master tactician. Watch as he blasts the Nationalists as phoney progressives, highlighting the gulf between their claims to the social justice agenda and their low-tax, pro-business policies. Labour and the SNP both believe in taking money from millionaires, he'll say; but we call it tax, they call it donations. All the while, and with no apparent contradiction, he will walk a perfect balance between centre-left and centre-right.
If you don't believe me, ask the Conservatives who have tried and failed three times now to dislodge him from their once-heartland East Renfrewshire seat. Their attempts have been frustrated by Murphy's ability to be everything to everybody, not a terribly lofty political skill but a useful one all the same.
Still, he faces a number of challenges. His rival Neil Findlay secured 35% of the vote, a creditable achievement and a higher share than was expected at the outset of the race. That he did so on an unabashedly left-wing platform in a campaign praised by commentators for its passion and fluency means he is now a serious player in Scottish Labour.
He has earned the right to be a thorn in Murphy's side but the new leader should realise Findlay's potential as a reassuring face for Labour voters flirting with the SNP. Labour badly needs to reclaim the language of fairness and equality and appointing Findlay to an enhanced social justice brief would be a canny move.
The bigger problem for Murphy is that he faces a smart and savvy SNP First Minister who is liked by the public and popular with the press. She's not Alex Salmond and so she isn't divisive; she comes across as sincere because she is sincere. She's not only a true believer in social justice, she knows her way around that agenda better than almost any other politician in Scotland. And she has the voters and momentum on her side.
Scotland is an SNP country now, or at least so far down that road that it has ceased to be Labour. Scottish Labour has spent too long denying that fact and its new leader must face up to it, and set out his vision for changing it. Labour lost Scotland. Now it's Jim Murphy's job to win Scotland back.